Christie Signs Child Support Termination Bill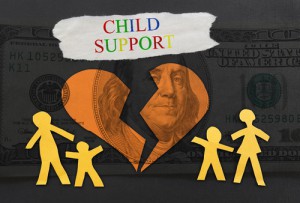 On January 19, 2016, Governor Christie signed into law a bill that dramatically impacts child support termination presumptions and procedures in New Jersey. The bill, S-1046/A-2721, is substantially similar to the version passed by the Senate in July of 2015, with minor amendments adopted by the Assembly in December. 
We provided questions and answers on the Senate version in August of 2015. The Assembly's amendments slightly expanded the notice requirements for orders administered by the Probation Department and imposed responsibility for public dissemination of information about the new law on the Administrative Office of the Courts and the State Title IV-D agency. The amendments also removed the term "emancipation" from the bill, clarifying that the provisions relate only to the obligation to pay child support, and not to any other parental rights and responsibilities related to legal emancipation of a child.
The highlights of the new law, which will go into effect on February 1, 2017, are as follows:
If a child support order is being administered by the Probation Division, both parents will be sent two written notices of proposed termination, the first at least 180 days prior to the child's 19th birthday and the second at least 90 days prior. The second notice will not be required if action by the custodial parent is already in progress, or if a new termination date has already been established.  To the extent feasible, additional notices of termination will also be provided to parents by text or telephone message, or by
other electronic means.
A custodial parent can seek continuation of support for a child past the age of 19. The parent must establish "sufficient proof," using court-approved forms and additional supporting documentation, of an acceptable reason for continuation, and must specify a new projected future date for termination.
Acceptable reasons for continuation are:

The child is still in high school;
The child is enrolled full-time in a post-secondary program;
The child has a mental or physical disability that existed prior to the child's 19th birthday; or
Other exceptional circumstances subject to court approval.

If a request for continuation is approved, a new order will be issued with a specified prospective termination date, which must be on or before the child's 23rd birthday.
Orders specifying unallocated child support for multiple children will not end automatically when the oldest child turns 19. Child support orders applicable to multiple children with amounts allocated per child will continue in effect minus the amount allocated to the child turning 19. In either situation, either parent can file a request for modification based on the change in status of the oldest child.
All child support obligations end by operation of law when a child turns 23. While other forms of financial obligation may exist after a child reaches age 23, in no event will any such obligation be characterized as child support.
For additional information from the New Jersey Department of Human Services, see:  Important Notice: Passage of Termination of Child Support Law.
Do you still have questions about child support and the new termination provisions? Please contact us for an initial consultation with one of our knowledgeable and experienced child support attorneys.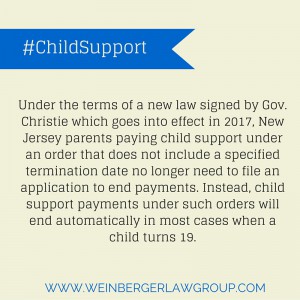 0
0
Weinberger Divorce & Family Law
https://www.weinbergerlawgroup.com/wp-content/uploads/2022/12/Weinberger-Divorce-Family-LAw-Group-LLC.-520-×-118-px1.png
Weinberger Divorce & Family Law
2016-02-07 12:05:15
2021-09-25 04:05:09
Christie Signs Child Support Termination Bill