Why We Need a Domestic Violence Ad During the Super Bowl
On Sunday during the Super Bowl, the NO MORE campaign aired its now second annual spot aimed at domestic violence awareness and prevention. (Remember last year's pizza delivery ad?) In this year's public awareness ad, the non-profit used familiar speech bubbles to depict a text conversation between two female friends watching the Big Game. One of the friends gives off clues that she is trapped in an abusive relationship before her speech bubble suddenly goes blank. The message of the spot is clear: we need to keep talking about domestic violence because so often victims can not.
As for what should be part of this conversation, we can start with some of the facts about domestic violence in New Jersey. Each year in the Garden State, approximately 70,000 cases of domestic violence are reported to the police, with many more cases going unreported. Nationwide, according to the U.S. Centers for Disease Control, nearly 1 in 3 women and 1 in 7 men will experience domestic violence, and 1 in 5 women and 1 in 16 men will experience sexual assault, at some point in their lifetime.
Something else that needs to be said? If you are trying to break free and find safety from an abusive partner, the law is on your side. If you are fearful because your partner has threatened or harassed you, or an actual assault has taken place, here are some legal remedies and practical steps to consider:
If you are in danger, call 911 or your local police emergency number for immediate assistance.
For help locating a safe house shelter or other domestic violence victims resources in your area, call the New Jersey Domestic Violence Hotline at or the National Domestic Violence Hotline at 1-800-799-SAFE (7233).
To seek a temporary restraining order (TRO) against an alleged abuser, go to your local courthouse or police station. A restraining order can be put in place to keep someone who is harassing or threatening you, or who has already carried out an assault, from contacting you. Violating an order of protection can result in law enforcement action. (See sample application for a NJ restraining order). Contact an attorney who represents domestic violence victims if this process seems intimidating or confusing.
Pack a bag with important things you'd need if you had to leave quickly; put it in a safe place, or give it to a friend or relative you trust. Include cash, car keys & important information such as: court papers, passport or birth certificates, medical records & medicines, and immigration papers.
If you are able to, consider buying a separate cell phone with private number. Most pay-as-you-go phones can be discretely set up.
Document all incidences of domestic violence, taking photos, making notes of places and times, and recording names of any witnesses.
If you have children, teach them how to get to safety, to call 911, and to give your address and phone number to the police.
For the sake of DV victims and their children, can we keep this conversation going, even after the Big Game's final score? It's encouraging to see that the NO MORE campaign is sponsoring a domestic violence and sexual assault awareness and prevention week in March. Let's continue to keep domestic violence in the forefront until then…and beyond.
Are you or someone you know the victim of domestic violence? Our powerful team of family law attorneys have the experience and skill to guide you to a safer future. Please contact us to schedule your initial attorney consultation.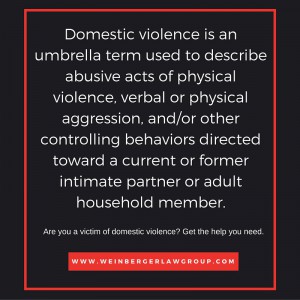 0
0
Weinberger Divorce & Family Law
https://www.weinbergerlawgroup.com/wp-content/uploads/2022/12/Weinberger-Divorce-Family-LAw-Group-LLC.-520-×-118-px1.png
Weinberger Divorce & Family Law
2016-02-08 18:08:14
2021-09-24 15:58:51
Why We Need a Domestic Violence Ad During the Super Bowl