Top 10 Highest Alimony Payments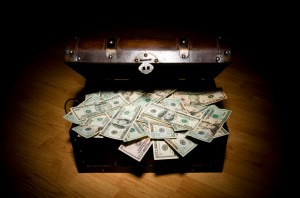 Since it's the time of year for all things spooky and scary, what better time to take a look  at the top ten highest alimony payments in celebrity divorce history? Kidding aside, examining these high end spousal support awards can teach all of us — whether you pay or receive alimony — a thing or two about how to achieve a fair spousal support settlement. Here's the top ten rundown and some of our tips for creating alimony arrangements both of you can accept.
Top 10 Highest Alimony Payments

10. Ted Danson & Casey Coates — $30 million
Married in the late 1970s, years before landing his multi-million dollar role as Sam Malone on Cheers, Ted Danson's marriage to first wife Casey lasted 15 years. Casey suffered a debilitating stroke after giving birth to their first child, a health condition which may have factored into her large payout when the two divorced in 1992.
9. Michael & Diandra Douglas — $45 million
When actor Michael Douglas's marriage to wife Diandra ended, he was reportedly already head over heels in love with Catherine Zeta Jones. Diandra may have used Douglas's desire to quickly move on as a way to negotiate a settlement worth a staggering $45 million.
8. James Cameron & Linda Hamilton — (more than) $50 million
The Hollywood pair were only married for 17 months, but it was during those 17 months that Cameron's mega hit movie Titanic was released. When the couple divorced in 1999, Hamilton was able to claim over $50 million of the movie's billion dollar bounty as her own.
7. Kenny & Marianne Rogers — $60 million
We all know the lyrics… "You gotta know when to hold 'em, know when to fold 'em, know when to walk away, know when to run." But when country legend Kenny Rogers, worth an estimated $250 million divorced his fourth wife after a marriage lasting from 1977 to 1993 (essentially the years marking the high point of his career), it was Marianne who was able to walk away with $60 million.
6. Kevin Costner & Cindy Silva — $80 million
Married in 1978, long before the world fell in love with Bull Durham or ever heard of The Field of Dreams, when Costner and wife Cindy split in 1994, the couple negotiated their divorce privately. Cindy reportedly walked away with $80 million of Costner's considerable fortune.
5. Amy Irving & Steven Spielberg — $100 million
Actress Amy Irving and director Steven Spielberg married in 1985 and divorced amicably in 1989. The two decided to share custody of their son and Amy received the hefty settlement amount of $100 million.
4. Neil Diamond & Marcia Murphy — $150 million
After 25 years of marriage, Murphy filed for divorce from the legendary singer, citing irreconcilable differences." The divorce was settled for $150 million, half Diamond's fortune. In interviews, the singer claims he cheerfully gave her the money (she's "worth every penny") because she had given him given him the priceless gift of his children.
3. Mel & Robin Gibson — (more than) $425 million
When Mel and longtime wife Robin finalized their divorce in 2011, Robin walked away with approximately half of Gibson's $850 million fortune. The couple have seven children together and were married for 31 years.
2. Craig & Wendy McCaw — (more than) $460 million
Cell phone giant Craig McCaw was one of the earliest investors in what would become the billion dollar mobile technology business. When he and wife Wendy divorced, she originally wanted $200,000 per month to support her lifestyle, but eventually settled for a lump sum payout of $460 million, mostly all in Nextel stock, sources report.
1. Rupert & Anna Murdoch — $1.7 billion
Global media tycoon Rupert Murdoch married first wife Anna in 1966. After 32 years of marriage and three children, the couple split in 1998. The divorce was finalized in June 1999 when Rupert agreed to let his ex-wife leave with $1.7 billion worth of his assets, $110 million of it in cash. Seventeen days later after his divorce decree was issued, Rupert married his second wife.
Alimony Tips
Tip 1: The best way to make sure the alimony payout you receive is fair, regardless of whether you are the payer or the receiver? Negotiate a prenuptial agreement before you get married. This document — which very few, if any, of the above celebrities had in place — can outline just how much spousal support will be paid in the event of divorce. A prenup can also delineate which assets are to be considered separate property. You may not be planning a career in Hollywood, but be aware that prenuptial agreements can be the best way to protect yourself — no matter how much is at stake.
Tip 2: Already married? Look into having a post-nuptial agreement put in place. This document functions virtually the same as a prenup in that it can set pre-determined spousal support amounts and protect other assets you may acquire over the course of your marriage. For example, why don't we see Heidi Klum and Seal on this list of expensive alimony payouts? They're certainly worth millions, but because the two reportedly had a post-nuptial agreement put in place right before Klum signed on for her successful (and lucrative) run with Project Runway, she probably earmarked her TV fortune as separate property, thus making it off-limits in the divorce. Smart thinking, Heidi!
Tip 3: Get informed about alimony reform in New Jersey. Just signed into law last week, there are now key changes in how much is paid and how long alimony lasts. We have several alimony reform resources available.
Have questions concerning alimony? The best way to explore your options and needs is to speak with an attorney. Contact us to schedule an initial consultation!
https://www.weinbergerlawgroup.com/wp-content/uploads/2022/12/Weinberger-Divorce-Family-LAw-Group-LLC.-520-×-118-px1.png
0
0
Weinberger Divorce & Family Law
https://www.weinbergerlawgroup.com/wp-content/uploads/2022/12/Weinberger-Divorce-Family-LAw-Group-LLC.-520-×-118-px1.png
Weinberger Divorce & Family Law
2014-09-23 18:37:11
2021-09-24 17:00:17
Top 10 Highest Alimony Payments