Survey: Post-Recession Couples More Likely To Be Honest About Money, Finances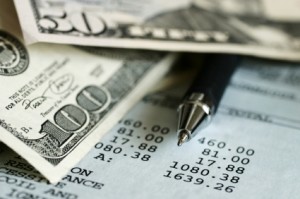 If there is a silver lining to the Great Recession of 2008, it may be that couples today are more open and aware when it comes to discussing money and financial matters, even before they are married, says a new survey from Experian, one of the country's leading credit reporting agencies.
Have money matters taken center stage in conversations with your spouse? Among the findings the online survey of over 1,000 married adults turned up:
Over 60 percent of post-recession couples discussed their credit score before getting married, compared to only 35 percent of pre-recession couples. (Will this lead to increased numbers of prenuptial agreements being put in place?)
After marriage, more than 80 percent of post-recession couples discussed financial goals with their spouse at least monthly, compared to 65 percent of couples who married before 2008.
Among post-recession couples, most said they would first discuss any purchase that cost an average of $256 or more with their spouse before buying. In contrast, most pre-recession couples said they felt comfortable spending more than $1,000 without first checking with their partner.
Despite differences between pre- and post-Great Recession couples, it's clear that communication concerning financial matters ranks high across the board for all couples when it comes to maintaining a successful relationship and strong marriage. When asked in the survey how important it is to have similar goals, married adults ranked financial compatibility high on the list, even slightly higher than sex and intimacy, and only a few points behind family and life goals. The full list (ranked in importance) includes:
• Family goals (98 percent)
• Life goals (97 percent)
• Finances (96 percent)
• Sex and intimacy (95 percent)
• Career goals (77 percent)
• Religion and spirituality (69 percent)
• Politics (44 percent)
As studies have shown, conflict over money and other money-related issues, are typically named as the leading cause of divorce in the United States. This new openness among partners since the recession, however, could be enough to knock this issue from the top spot.
Engaged and have questions about the role finances might play in your marriage? Going through a divorce and concerned about how it will affect your finances or credit? We have a number of resources that can help:
How to Protect Your Finances in a Divorce
Don't Let Divorce Ruin Your Finances: 5 Key Steps
Financial Information to Have When Preparing to Divorce in New Jersey
https://www.weinbergerlawgroup.com/wp-content/uploads/2022/12/Weinberger-Divorce-Family-LAw-Group-LLC.-520-×-118-px1.png
0
0
Weinberger Divorce & Family Law
https://www.weinbergerlawgroup.com/wp-content/uploads/2022/12/Weinberger-Divorce-Family-LAw-Group-LLC.-520-×-118-px1.png
Weinberger Divorce & Family Law
2014-06-05 11:54:21
2014-06-05 11:54:21
Survey: Post-Recession Couples More Likely To Be Honest About Money, Finances