Lessons Learned From The Johnny Depp And Amber Heard Divorce
filed for divorce
from Depp last Monday, citing irreconcilable differences and seeking
temporary spousal support
, which she was denied. On Friday, the divorce took an explosive turn when it emerged that Heard had been granted a temporary restraining order against Depp. In court papers, she claimed Depp had been violent towards her on several occasions during their 15-month marriage, including an incident the weekend before she filed for divorce in which Depp allegedly struck her in the face with a cell phone. Charges in the matter have not been filed.
As the legal details of this messy celebrity divorce continue to unfold in a very public way, it's worthy to note that the issues Heard and Depp face, including temporary spousal support and the affect of domestic violence on the outcome of a divorce, are the same concerns faced by countless divorcing spouses, including many who live right here in New Jersey.
What if Amber and Johnny got divorced in Hackensack instead of Hollywood? Let's take a look at how their situation could be resolved under New Jersey family law.
Spousal Support & Divorce
At the same time Heard filed her divorce papers, she and her attorney also filed a motion for pendente lite spousal support, a temporary form of alimony that provides the lesser earning spouse with money to maintain their lifestyle between the end of the marriage and the finalization of the divorce (the divorce settlement could then contain final support terms). Heard was reportedly seeking $50,000 per month to maintain the high profile lifestyle she enjoyed during her marriage. Depp's lawyer argued that Heard, as a successful actress, has the means to support herself. The lawyer also pointed to brevity of the union. The judge denied Heard's claim citing incomplete financial information as the reason.
Depp and Heard apparently never signed a prenuptial agreement, which means any further decisions over alimony will left up to the courts if they can't reach a settlement.
What would happen if a similar case came before the New Jersey courts?
In filing for spousal support, a 15-month marriage may not bode well for any kind of significant alimony amount — unless extenuating factors are present. For example, if the incomes between spouses are so disparate that one spouse cannot maintain anything close to the marital lifestyle, alimony could be awarded even after a brief marriage. According to reform laws, in any marriage that lasts less than 20 years, the maximum duration of alimony is the number of years the marriage lasted (again, absent exceptional circumstances). Heard may argue that the extremely lavish marital lifestyle she enjoyed merits "exceptional circumstances" and she should be kept at that level for longer than 1.5 years. Depp's counsel would likely continue to offer the counterargument that since Heard is a successful model and actress, she can maintain herself pretty close to the level they enjoyed together all on her own.
Domestic Violence
Filing domestic violence charges or seeking a temporary restraining order around the time of divorce is not uncommon as domestic abuse is often a precipitating factor for divorce. When Heard filed for a temporary restraining order, she claimed that she had suffered "years of abuse" at the hands of Depp.
When divorce and domestic violence overlap, under New Jersey law, the victim spouse can also file a marital tort claim for pain, suffering, and medical bills as a result of the alleged assault(s). Sometimes called a Tevis claim, a marital tort claim is generally filed at the same as the divorce. The victim spouse has the burden to prove pain, suffering and/or medical expenses and an expert or experts may be necessary to substantiate claims (i.e., a doctor and/or a psychologist). Unlike a divorce, the Tevis claim can be heard by a jury, if the victim spouse requests this and the judge agrees.
Also important to note: A true Tevis claim allows a spouse to go back in time as far as they need to prove the injuries. If you don't qualify for a true Tevis claim, you can only go back two years. This is known as a Domestic Torts claim. To become qualified for a Tevis claim, you generally need an expert to testify on your behalf to substantiate the longstanding nature of the abuse.
What's next for Heard and Depp? With no prenuptial agreement and multi-millions of dollars at stake, added to domestic violence allegations, there may be no easy answers in this divorce. We will be sure to update our blog with any further developments that are relevant to our readers.
Are you seeking spousal support as part of your divorce? Dealing with domestic violence and want to know how to file a marital tort claim? We can help. Please contact us today to schedule your INITIAL confidential consultation with one of our highly skilled family law attorneys.
Read More:
5 Things You May Not Think to Share with Your Divorce Attorney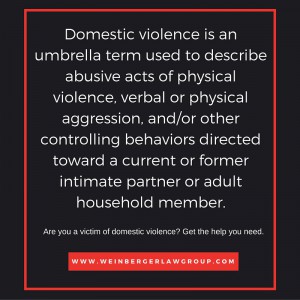 Making headlines this week has been the celebrity divorce of Amber Heard and Johnny Depp. Heard
0
0
Weinberger Divorce & Family Law
https://www.weinbergerlawgroup.com/wp-content/uploads/2022/12/Weinberger-Divorce-Family-LAw-Group-LLC.-520-×-118-px1.png
Weinberger Divorce & Family Law
2016-06-02 12:22:05
2022-08-04 10:02:29
Lessons Learned From The Johnny Depp And Amber Heard Divorce