4 Steps To Take When Divorce Negotiations Are Stalled
Many more people today are wisely attempting to negotiate their family law issues rather than engage in expensive and costly litigation. Couples are assisted in this approach by trained family law mediators and collaborative divorce professionals who guide the parties and make recommendations to both to help facilitate settlement. Other couples attempt to negotiate with their exes without assistance, which can prove to be much more difficult and time consuming. Either way you approach negotiations, what can you do if you are finding that the negotiations are not working?
Here are a few suggestions to assist you in getting the talks moving in the right direction:
Know your rights
People who are not informed about what they actually are entitled to in a dispute can dig in their heels, fueled by their own misinformation. For example, if you are engaged in a custody dispute, flat out refusing to agree to your ex spending any time with your children is not going to get you far, and would most likely never be awarded by a judge, anyway. Barring severe circumstances such as your ex abusing your or your child or engaging in illegal acts that could potentially put your child in danger, the vast majority of courts greatly support the notion that both parents should be actively involved in their children's lives. Knowing this is the stance of the courts in New Jersey will help you put aside a battle you are unlikely to win.
Let your attorney or mediator guide you when needed
Remember, you hired your mediator as a professional to help you come to a resolution that will work for you and your family now and going forward into the future. Trust their knowledge and experience not only helping families just like yours, but also their experience with the local court systems and the local judges. Having knowledge of how a judge tends to rule is invaluable. Listen to your mediator or attorney when they offer you advice on how to proceed. Ignoring their recommendations could harm your case in the long run.
Take the emotion out of the divorce negotiations
Of course, this is easier said than done. Couples who are splitting up are often hurt and angry. Putting these emotions aside can be difficult, but it is absolutely necessary to ensure productive negotiation. Focus on the law as you have been advised by your attorney or mediator and concentrate on concrete aspects of your case such as the appropriate amount of child support, your financial information and division of property that is fair. Focusing on the emotional reasons why your separated can only serve to upset and exhaust you.
Listen
You are probably feeling all sorts of emotions toward your ex. However, put those emotions aside and really listen to what your ex is proposing. Perhaps their offer of settlement is not as far out of bounds as you initially thought or that your first anticipated before actually sitting down with him or her. Remember that your ex is also going through emotions and may be defensive. But, with guidance from their legal professional, they may have arrived at an offer that is a solid attempt at compromise. If you don't listen, you just may miss it.
Whatever type of family law issue you may be experiencing, it helps to talk to an experienced family law attorney or mediator who has practiced family law in New Jersey for a significant period of time. It is never a mistake to become as informed as possible when going into negotiations.
Have concerns about your divorce negotiations? We can help. Please contact us to schedule a INITIAL confidential consultation with one of our highly skilled family law attorneys or family law mediators.
Read More:
7 Steps to Successful Divorce Negotiations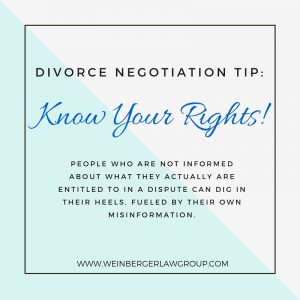 0
0
Weinberger Divorce & Family Law
https://www.weinbergerlawgroup.com/wp-content/uploads/2022/12/Weinberger-Divorce-Family-LAw-Group-LLC.-520-×-118-px1.png
Weinberger Divorce & Family Law
2016-06-03 10:15:26
2021-09-24 17:16:03
4 Steps To Take When Divorce Negotiations Are Stalled