Join Us For Family Law Tuesday, Our LIVE Facebook Q&A Chat!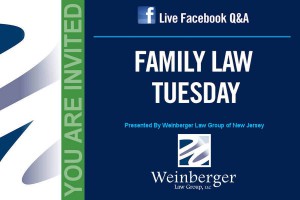 What questions do you have about divorce and family law? On Tuesday, September 2 (tonight), Weinberger Divorce & Family Law Group, LLC will hold Family Law Tuesday, our monthly Facebook Q&A chat, and you're invited! From 8 to 9 PM, we'll be LIVE answering your questions related to New Jersey divorce, child support, alimony, child custody, prenuptial and post-nuptial agreements, asset division, and more. Ask your question tonight or send us a Facebook PM anytime and we will answer it during the hour. All you need to do is join our Facebook page and then watch for tonight's post.
People have let us know that one of the most interesting parts of Family Law Tuesday is reading the questions that others ask. Many times because they have the same questions, and are happy to finally have some answers.
If you would like a sneak peak of what to expect tonight, check out these Q&As from last month's Family Law Tuesday.
Q: Here's a question that came to us via PM from Fatima, who asked: I am trying to hire a divorce attorney, but I am really confused about how to know the lawyer is really the right one.
A: One way to take the confusion out the process of finding a good divorce attorney in New Jersey is to winnow down the field by asking each candidate some key questions…
Does the attorney practice family law exclusively, or is his/her practice mainly family law? Just like you might look for a specialist doctor depending on your needs, when you are getting a divorce, you want an attorney with experience and expertise in this area.
Is the attorney willing to send emails, texts, scanned documents, and forms electronically in order to make sure you have all the information as quickly as possible?
Do you feel in your conversations that this person is truly listening to you? Do you feel pressure to do it "their way"? These are read flags this person may not be for you!
Do you understand their retainer fee? For more on how to compare retainers, see our blog: High or Low Retainer Fee? Which One is Best?
Q: Our next question comes from Meredith: My husband informed me that he's leaving me and wants a divorce. If he wants to divorce me, do we need to get a legal separation first?
A: Our answer: Hi Meredith, some states require couples who separate to go to court to file a Complaint to formally declare this status, but New Jersey is NOT one of them. Here, "separation" simply means that you and your spouse have chosen to reside in different homes until you a. reconcile or b. divorce. If you and your spouse have children, you can put in place temporary child custody, visitation, and child support agreements to cover what happens during your separation. You can also put in place temporary alimony and asset distribution agreements during this time as well. For more on the legal steps to take during a separation, please see our article: Is There Legal Separation in New Jersey? Thank you for your question!
Q: Is it possible to obtain a divorce without your spouse's signature? What if they are refusing to sign.?
A: Hi Rachel, in New Jersey, one spouse does not need the approval or agreement of the other to pursue a divorce; it is an individual decision and any action on the part of the other spouse to refuse to accept or sign divorce documents won't prevent the process from moving forward. If you've made up your mind to divorce, you can simply file a New Jersey Complaint for Divorce on your own. Also cutting down on red tape in New Jersey is the fact that the state has no-fault divorce laws on the books where you simply have to demonstrate that you and your spouse have "irreconcilable differences" that have led to the breakdown of the marriage (rather than prove adultery, etc.). You can read more about the process of pursuing divorce when your spouse is reluctant here: How to File for Divorce When Your Spouse Doesn't Want One. Please let us know if you have any questions!
We hope to see you tonight!
https://www.weinbergerlawgroup.com/wp-content/uploads/2022/12/Weinberger-Divorce-Family-LAw-Group-LLC.-520-×-118-px1.png
0
0
Weinberger Divorce & Family Law
https://www.weinbergerlawgroup.com/wp-content/uploads/2022/12/Weinberger-Divorce-Family-LAw-Group-LLC.-520-×-118-px1.png
Weinberger Divorce & Family Law
2014-09-02 14:49:56
2023-01-11 14:07:37
Join Us For Family Law Tuesday, Our LIVE Facebook Q&A Chat!