Free Range Parenting v. Helicopter Parenting: What is the Law in New Jersey?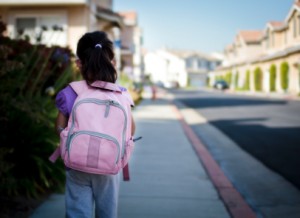 The New Jersey Law Journal has just published an article by attorney Bari Weinberger discussing how laws that attempt to protect children can impact a parent's right to make decisions. "Free range parenting," Weinberger explains, "is a term coined in reaction to what some consider to be a recent trend toward over-protectiveness of children. Free range parents perceive this over-protectiveness, sometimes called "helicopter-parenting," as a futile attempt to protect children from every conceivable risk of harm, potentially at the expense of a child's development of age-appropriate independence."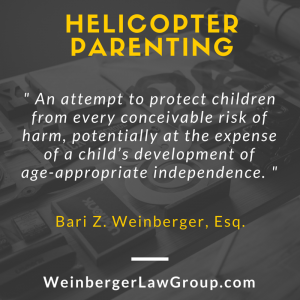 In 2008, "world's worst mom" Lenore Skenazy brought free range parenting into the media spotlight when she wrote a column about allowing her then 9-year-old son to ride alone on the New York City subway. More recently, Maryland couple Danielle and Alexander Meitiv made headlines after Montgomery County Child Protective Services initially found them responsible for "unsubstantiated child neglect" after they allowed their 6 and 10-year-old children to walk home alone from a neighborhood park. These charges were eventually dropped.
While parents like Skenazy and the Meitivs may be actively trying to instill independence in their children, in many cases necessity is the real issue. Child care in the United States is expensive and not always easy to find. Last week, a Houston mother was arrested for leaving her two young children at a table in a mall food court while she interviewed for a job less than thirty feet away, keeping the children in her line of sight. Although the mother made a statement acknowledging that this may not have been the smartest decision, her plight highlights the type of dilemma parents trying to provide for children often face. She was a single mother trying to get a job. Upon obtaining an interview on very short notice, she felt she had no other options (and she did get the job).
Is 9 really too young to travel alone? Can a 10-year-old walk a 6-year-old sibling home from the park? Can a 6-year-old watch a 2-year-old for a brief period of time within sight of a parent? How do courts decide when allowing children too much independence actually amounts to child neglect? As the NJLJ article points out, a handful of states, including Maryland, have laws designating a particular age under which a child cannot be left unattended under certain circumstances. The Maryland law is more specific than most, prohibiting parents from leaving children under 8 alone in a building or vehicle unless they are supervised by a reliable person who is at least 13 (Md. Code, Fam. Law (§5–801). Most state statutes that designate ages clarify that these are just guidelines that apply only if there is an actual condition present that would endanger the child's health or welfare. The majority of states stick to more general provisions and do not designate specific ages at all.
What about New Jersey? As Weinberger explains in the NJLJ article, an abused or neglected child in New Jersey includes any child "whose physical, mental, or emotional condition has been impaired or is in imminent danger of becoming impaired as the result of the failure of his parent or guardian . . . to exercise a minimum degree of care . . . ." (N.J.S.A. 9:6-8.21(c)(4)(b)). With no guideline age specified, decisions regarding whether or not abuse or neglect has occurred are largely left to the courts. New Jersey courts have clarified that failure to provide a "minimum degree of care" requires not just ordinary carelessness, but an extreme degree of negligence, known legally as "gross negligence." G.S. v. Department of Human Services, 157 N.J. 161, 177-78 (1999). Judges look at the facts of each case and consider whether or not "an ordinary reasonable person" would understand that a particular situation is "perilous" to a child." 419 N.J. Super. at 545-46. N.J. Div. of Youth & Family Services v. A.R., 419 N.J. Super. 538 (App. Div. 2011).
The fact that New Jersey courts will not find parents guilty of abuse or neglect in the absence of "gross negligence" reflects a recognition that parents have a constitutional right under the Fourteenth Amendment to make decisions for their minor children, and that parents are generally in the best position to evaluate the abilities of their own children to handle specific situations, whether such situations involve being alone for only a few minutes or for an extended period of time. As Weinberger further explains in the article, "Laws that specify particular ages without allowing flexibility for circumstances, as well as laws that are worded so vaguely as to permit bureaucrats to substitute their own decision-making authority for that of a parent, are arguably unconstitutional."
Cases cited in the NJLJ article demonstrate that New Jersey courts are concerned not only with a child's age but also with the overall circumstances of a situation. For example, recently a New Jersey Appellate Division court reversed a finding of neglect by the mother of a 3-year-old who was in her bedroom in the morning with the door closed while the child was in the next room alone, wearing a dirty diaper. The apartment door was ajar and the mother admitted drinking alcohol the previous evening. New Jersey Division of Child Protection and Permanency v. J.C. (App. Div. 2015). In 2011, the New Jersey Supreme Court concluded that there was no neglect by the mother of a 4-year-old who left her child alone for 2-3 hours under the mistaken assumption that the grandparents were in their apartment within the home. (Department of Children and Families, Division of Youth and Family Services v. T.B., 207 N.J. 294 (2011)). In 2009, an Appellate Division court concluded that there was no neglect by a mother who allowed her 3 and 5-year-old children to walk home alone to their nearby condominium from a playground while she stayed behind for approximately half an hour. New Jersey Department of Youth and Family Services v. J.L., 410 N.J. Super. 159 (App. Div. 2009).
On the other hand, an Appellate Division court affirmed a finding of neglect in Department of Children & Families v. E.D.-O., 434 N.J. Super. 154, 158 (App. Div. 2014), where the mother of a 19-month-old left her child for about ten minutes in a locked car with the windows cracked an inch and the engine running. Clearly, special risks exist for children left alone in vehicles, including, as noted in The New Jersey DCF policy manual, asphyxiation, heat exhaustion, and kidnapping, as well as injuries that could occur either from the child's accidentally putting the vehicle in motion or attempting to leave the vehicle. The E.D.-O. case also demonstrates that the availability of other alternatives can be an important factor. The court pointed out that there seemed to be no need to leave the child in the car when the mother was only shopping for party supplies and there were adults available to watch the child back at home.
If you are a New Jersey parent with young children, you can take some guidance from the cases above. Keep in mind though that the parents in these cases were subjected to investigation, even when they were eventually cleared of charges. Whether or not a clear threat exists is not always easy to assess; child protective service workers and police understandably, and often fortunately, feel inclined to intervene whenever the risks of ignoring a situation appear greater than the risks of investigation.
The overall message is that every child and every situation is different. A child who has the skills and the ability to occupy him or herself for an hour after school may not necessarily have the skills to prepare dinner or keep a younger sibling safe.  Making sure that your children know what to do in the event of a fire, a blackout, or a stranger knocking on the door is just the beginning. Understanding your child's abilities in the context of whatever kinds of emergencies or unanticipated circumstances may arise is key.
Do you have questions about New Jersey child protective laws or investigations by New Jersey DCP&P? We can help. Please contact us to schedule your confidential initial consultation.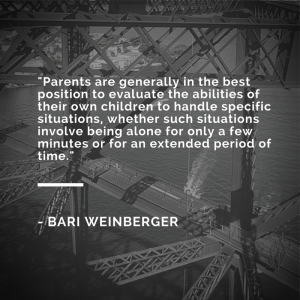 0
0
Weinberger Divorce & Family Law
https://www.weinbergerlawgroup.com/wp-content/uploads/2022/12/Weinberger-Divorce-Family-LAw-Group-LLC.-520-×-118-px1.png
Weinberger Divorce & Family Law
2015-07-27 12:11:47
2021-09-22 09:28:04
Free Range Parenting v. Helicopter Parenting: What is the Law in New Jersey?