Post-Divorce Dating: Getting On With Your Life
If you've spent years languishing in an unhappy marriage, you may be eager for romance and attention. Are you ready for post-divorce dating? Before you download any dating apps, take time to decide what you want, and whether you're emotionally ready to get into another serious relationship.
When you are, here are some top tips for getting yourself back out there.
Create a compelling dating profile. You get one chance to make a good first impression, so forget the bathroom selfies and 10-year-old pictures; hire a professional photographer to take new headshots. Don't know what to say about yourself? A dating profile service can write your profile for you! So can a friend who's good with a turn of phrase. If you're writing your own profile, show it to someone you trust for feedback. You want to play up your assets, but you also want to be authentic; a friend can tell you if you've achieved that balance.
One important note! Portraying yourself as someone you're not by saying you have no kids, or taking photos of yourself on luxurious vacations could blow up in your face should your ex see these. Dating profiles are often used as evidence in custody and alimony cases.
Treat post-divorce dating as an information-gathering process. Divorce leaves most people feeling vulnerable. If you're lonely, you may overlook red flags because you want a plus-one ASAP. However, the early stages of dating should be about gathering information to determine if a new partner is right for you. Feeling an "instant connection" is a sign to slow down, not speed up. To find out if someone is trustworthy, pay attention to their behaviors, not their words. People can say anything, but their actions are the only things that count.
Beware the rebound romance. If you have not done your due diligence in the information-gathering stage, you may find yourself seriously involved with another Mr. or Ms. Wrong. Wait at least six months before introducing your new significant other to friends and family – especially your kids! You don't want to stay in a relationship simply because you don't want to admit you made another mistake; you also don't want your children to get attached to someone who's not going to stick around.
Do personal growth work. As part of gearing up for post-divorce dating, it's time to get honest about your part in the breakdown of your marriage and work on changing problem behaviors. Clarifying your values (what's important to you) and goals will make you feel more grounded and give you a sense of purpose. It will also help you to identify  truly compatible dating partners. A therapist can guide you through the grief process that accompanies divorce, and assist you in your personal growth journey so you can attract the right people moving forward.
A final note: post-divorce  dating should not be a race with your ex to see who gets re-coupled first. If this is your primary motivation, you're still emotionally attached to your former spouse, thus not ready for a healthy relationship. Dating someone in order to "prove" to your ex that you're somehow more desirable isn't fair to the new person in your life; no one wants to feel instrumental. Your ex's relationship status has nothing to do with you. The object is not to be the first one to get in a relationship; it's to find a fulfilling relationship that lasts. 
Learn More:
When Is The Right Time To Start Dating Again After Divorce?
Have questions about divorce? Please contact us today to schedule your initial attorney consultation. Call us at 888-888-0919, or please click the button below.
Schedule an Initial Consultation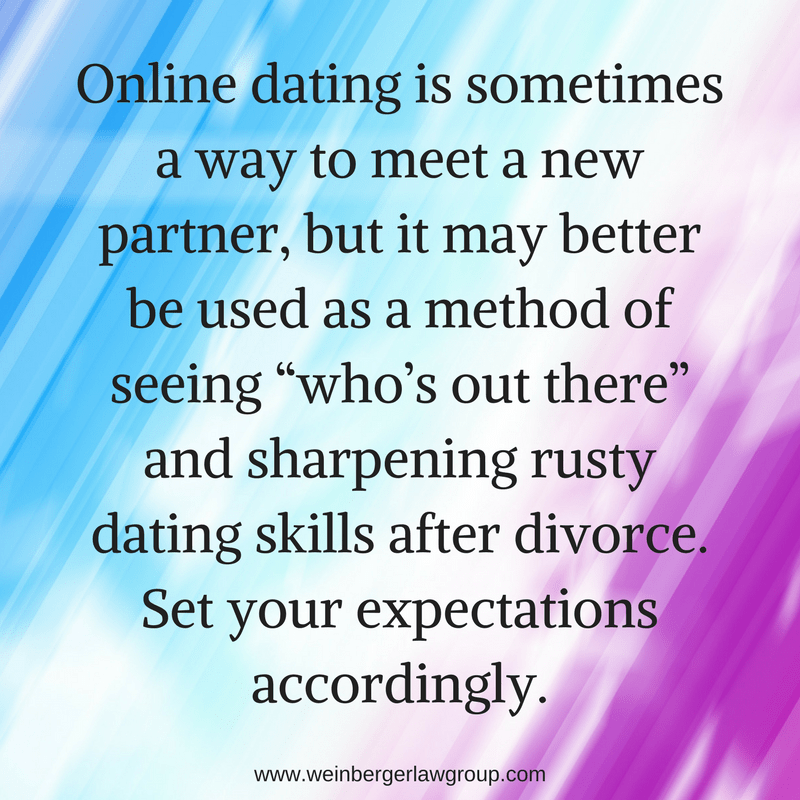 https://www.weinbergerlawgroup.com/wp-content/uploads/2020/01/Depositphotos_88486830_l-2015.jpg
1333
1999
Weinberger Divorce & Family Law
https://www.weinbergerlawgroup.com/wp-content/uploads/2022/12/Weinberger-Divorce-Family-LAw-Group-LLC.-520-×-118-px1.png
Weinberger Divorce & Family Law
2020-01-27 20:35:02
2021-09-24 15:08:03
Post-Divorce Dating: Getting On With Your Life