New Jersey Divorce Chronicles Part 4: Why "Coming out Swinging" Could Backfire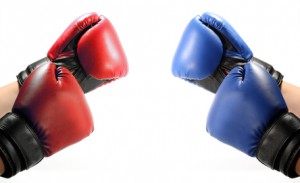 In part 2 and part 3 of our continuing blog series on avoiding common divorce mistakes, we looked at two different approaches to hiring a divorce attorney. In part 1 of our series, we introduced you to our two New Jersey couples: Robert & Sharon and Jason & Melissa. In this installment, we'll take a look at Robert & Sharon's divorce to see how one of our subject's choice of attorney impacts the beginning of the divorce process.
Sharon's Opening Moves
After her consultation with attorney Samantha Shark, Sharon is convinced that moving ahead quickly will throw Robert off balance and give her an advantage. She immediately serves Robert with divorce papers. Robert is very angry when he gets the papers. He tells Sharon there is no way he is moving out of the house, and he will not allow her to leave with the children. Sharon also refuses to move. The couple divide the house into separate camps and continue living together in stony silence, avoiding each other as much as possible. They tell the children they are getting a divorce but that nothing else has been decided. The children are confused and do not understand what is happening.
Robert Responds
Robert consults with a few attorneys. They all tell him that Ms. Shark is an aggressive and formidable adversary and that he had better hire someone very experienced. Worried about what is in store, he decides to hire Evan Sword, an attorney with a good reputation as a staunch advocate for the rights of fathers in divorce. Mr. Sword charges $450 per hour and demands a $15,000 retainer.
The Result
Has Sharon again made errors in her initial approach? Quite possibly. While there are certainly circumstances in which a "surprise" service with divorce papers may be the best move, in Sharon's case, her initial aggressive stance may end up hurting her because Robert has become angry and fearful and has responded by hiring a very expensive attorney — a move which is likely to increase the overall costs of this divorce case. Sharon's decision has increased conflict and caused a sudden disruption in the home, negatively affecting the children.
Will our other subject, Jason, fare better in commencing his divorce? In part 5, we'll take a look at his experience.
Stay tuned for our next installment, coming soon!
https://www.weinbergerlawgroup.com/wp-content/uploads/2022/12/Weinberger-Divorce-Family-LAw-Group-LLC.-520-×-118-px1.png
0
0
Weinberger Divorce & Family Law
https://www.weinbergerlawgroup.com/wp-content/uploads/2022/12/Weinberger-Divorce-Family-LAw-Group-LLC.-520-×-118-px1.png
Weinberger Divorce & Family Law
2015-03-05 17:36:03
2015-03-05 17:36:03
New Jersey Divorce Chronicles Part 4: Why "Coming out Swinging" Could Backfire