Domestic Violence Doesn't Discriminate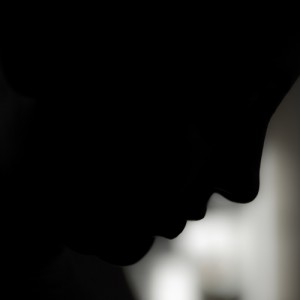 October is National Domestic Violence Awareness month, a time when this country tries to raise awareness regarding an issue that still plagues the US. And, the victims are not just women. They are not just people in different-sex relationships. Domestic violence can happen to anyone at any time.
According to The National Network to End Domestic Violence's website, 'Anyone can be a victim of domestic violence, regardless of race, age, ethnicity, sexual orientation, or economic status. Abusers control and terrorize our daughters, bosses, sisters, friends, and even our sons – who are most often abused by their male partners and sometimes their female partners." While domestic violence can happen to anyone, everyone who is a victim deserves help and should be given assistance they require.
What is domestic violence? As defined by newchoicesinc.org, "Domestic violence is a pattern of abuse that happens in a personal relationship. Also known as spousal abuse, it occurs when one person in an intimate relationship or marriage tries to dominate and control the other person." And, while women are more commonly victims of domestic abuse, according to the Centers for Disease Control, one in four adult men in the U.S. will become a victim of domestic violence during his lifetime. That's upwards of three million male domestic violence victims every year, or one man in America abused by an intimate or domestic partner every 37.8 seconds.
The same holds true for LGBTQ couples. The National Violence Against Women survey found that 21.5 percent of men and 35.4 percent of women living with a same-sex partner experienced intimate-partner physical violence in their lifetimes, compared with 7.1 percent and 20.4 percent for men and women, respectively, with a history of only opposite-sex cohabitation. Transgender respondents had an incidence of 34.6 percent over a lifetime according to a Massachusetts survey. And, according to The Advocate's website, "Myths about domestic abuse, victims' fear and shame, a silence that stems from a desire not to harm perceptions of the LGBT community — all these together contribute to making the problem invisible to others. Many people who are suffering either don't realize that they're in a terrible situation or don't know where to go or who to tell. They wonder who will listen, who will believe them."
It is the hope that at some point in the near future, domestic violence will not be subject to compartmentalization or stereotyping and that any stigmas that may be attached to gender or creed when reporting domestic violence disappear. Until then, the focus must remain on getting help to those in need and on reassuring those afraid to come forward that they have nothing to fear except their abuser.
If you or someone you know is in danger, get help. Contact the police in the event of an emergency. The National Domestic Violence Hotline is 1-800-779-7233 and the New Jersey Domestic Violence Hotline is 1-800-572-SAFE. For more information or assistance on obtaining a temporary or final restraining order, please contact us to schedule your initial and confidential consultation with one of our caring family law attorneys experienced in New Jersey domestic violence laws.
Read More:
Domestic Violence: Signs, Signals And Help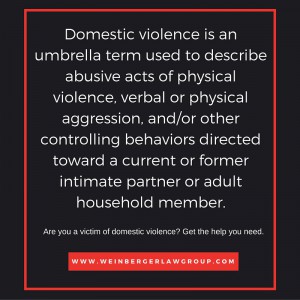 0
0
Weinberger Divorce & Family Law
https://www.weinbergerlawgroup.com/wp-content/uploads/2022/12/Weinberger-Divorce-Family-LAw-Group-LLC.-520-×-118-px1.png
Weinberger Divorce & Family Law
2016-10-03 20:36:09
2021-09-24 16:20:22
Domestic Violence Doesn't Discriminate