Who Gets the Apartment? What Happens in a Divorce When You Lease or Rent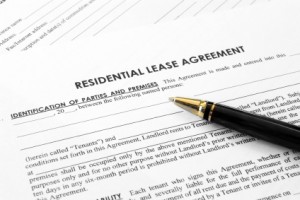 Maria and Shane had leased their Jersey City apartment for three years when the couple decided to get a divorce. Shane moved in with his brother while he looked for a new place to rent. Maria remained in the apartment and over the next few weeks, had the building superintendent change the locks and paid the rent herself on the first of the month.
One day, Maria came home from a long day at work to find the apartment stripped bare of everything — couch, TV, computer, tables and chairs, pots and pans, sheet and towels…even right down to shampoo and toilet paper. Before contacting the police, Maria buzzed the building superintendent to find out if he might know anything. Turns out he did. As he calmly informed Maria, since Shane's name was on the lease, he was legally obligated to allow him entry. The new locks were no deterrent; the superintendent let Shane in using the master key.
Maria went back to her almost empty apartment, sat down on the lone remaining chair, and wondered what she could have done differently.
For starters? If you and your spouse, like Maria and Shane, are renting or leasing your primary residence at the time of your divorce, and one of you moves out, immediately contact the landlord or building supervisor to have your lease or rental agreement changed. If you are now the sole occupant of the apartment — and the lease is rewritten to reflect this — generally, your spouse no longer has the legal right to access the apartment. Keep in mind, however, that when the lease is solely in your name, you do bear 100% responsibility for getting the rent paid. (From the other party's perspective: If you are the spouse who vacated, taking your name off the lease can remove your responsibility for paying rent, but also revokes your ability to enter the apartment without your spouse's permission.)
In cases where there is no rental agreement or you are renting month-to-month, you may need to draw up a separate document with your landlord that simply outlines who now lives in the apartment or condo, who is responsible for the rent, and who is allowed entry. If you have a restraining order against your spouse, make sure the building super or landlord has a copy of this on file and knows how to respond if your spouse is observed on the premises. Don't underestimate the stories some ex-spouses concoct in order to gain access to their former place of residence. It may be a wise idea to let neighbors know about your new status, too, so they don't give out a spare key or even — as has happened — provide entry via an adjoining balcony or fire escape.
When it comes to other items the two of you may lease, including a car, boat, or summer home, the same basic rules can apply. Obtain copies of your lease(s) and show your divorce attorney. In cases where there is a dispute over who takes over leasing rights to the item, your attorney is there to help you negotiate.
https://www.weinbergerlawgroup.com/wp-content/uploads/2022/12/Weinberger-Divorce-Family-LAw-Group-LLC.-520-×-118-px1.png
0
0
Weinberger Divorce & Family Law
https://www.weinbergerlawgroup.com/wp-content/uploads/2022/12/Weinberger-Divorce-Family-LAw-Group-LLC.-520-×-118-px1.png
Weinberger Divorce & Family Law
2012-06-18 14:27:04
2018-05-08 11:38:44
Who Gets the Apartment? What Happens in a Divorce When You Lease or Rent