Why A Post-Nuptial Agreement Could Be Good For Your Relationship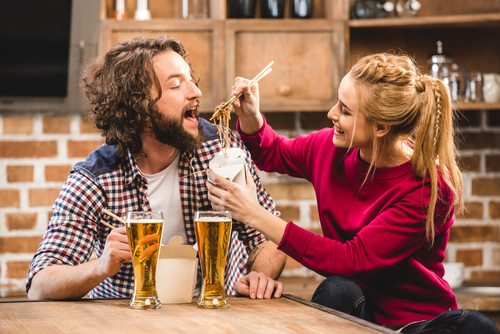 If you wish you'd negotiated a prenup before you said "I do," a post-nuptial agreement may be exactly what you need right now to help you feel more secure about your future – and your relationship. The secret to marital bliss? Find out why for some couples, it's the peace of mind that comes from having a post-nup in place.
Essentially the same thing as a a prenuptial agreement, a post-nuptial agreement is a document created after the wedding that specifies how certain assets and debts will be split in the event of a divorce. Items addressed in a post-nup can include alimony amounts and decisions about how certain large assets would be divided in a divorce, such as the family home.
Critics of both pre-nups and post-nups believe these documents take the romance out of marriage and incentivize divorce by giving couples an "exit plan." But proponents of both believe they can actually preserve the romance by making each spouse feel more secure about the future. And if that future does contain divorce, a post-nup can prevent conflict and legal fees, making the entire process much less stressful (and less costly). These days, more and more married couples seem to agree with sensibility of a post-nup: in 2015, the American Academy of Matrimonial Lawyers reported that 50% of attorneys saw an increase in post-nups during the previous three years.
Why Would A Married Couple Get A Post-Nup?
Sometimes people are too swept up in the excitement of a wedding, or simply feel too awkward, to ask for a pre-nup, and then regret their decision. Sometimes people do have a pre-nup, but modify it when special circumstances arise, such as the birth of children.
When Rupert Murdoch had children with (now ex-wife) Wendy Deng, the couple renegotiated their post-nup to insure that his children from his prior marriage were given stake holdings in his companies – but not his children with Deng. Infidelity is another reason post-nups are in increasing demand. Tiger Woods' ex-wife Elin Nordegren was said to have altered their post-nup after Woods' notorious cheating scandal. There are also reports that Jay-Z and Beyonce signed a post-nup as a consequence to his infidelity.
The Benefits of A Post-Nup
– Post-nups clarify a couple's financial scenario, as well as future fiscal responsibilities. This is especially helpful for spouses who have let their partner manage the money, and don't know exactly what assets and debts they share.
– Post-nups can help couples that struggle to talk about money become more comfortable with those conversations and resolve long-standing issues with finances.
– Post-nups can make people relax when they put on paper what they're entitled to in case of divorce. Eliminating uncertainty can actually help them feel more secure in their marriage.
– Post-nups can demonstrate a partner's renewed commitment to marriage. This is common in marriages where infidelity is an issue; post-nups will often specify financial penalties for more indiscretions. The betrayed partner can begin to heal knowing their spouse has made an amends and is serious about working on the relationship. Although a post-nup didn't save Tiger Woods' marriage, it appears to be benefiting Jay-Z and Beyonce.
– Post-nups can help protect children from previous marriages, or prevent extended family from losing assets in a family-owned business.
– Post-nups can even protect your reputation! More couples are including "social media" clauses in post-nuptial agreements that mandate that, in the event of a divorce, neither spouse is allowed to share details of their split – and scathing opinions of each other – on Facebook and Twitter.
What You Need To Know About Getting A Post-Nup
To be considered enforceable in New Jersey:
– Both parties need separate counsel (aka, their own lawyer) when drawing up the document,
– Both parties are required to provide a full financial disclosure, and
– Neither party is forced to sign under duress.
New Jersey courts tend to scrutinize post-nups more than pre-nups due to the fiduciary relationship that already exists between married couples. Working with a family law attorney throughout the post-nup process is critical to a positive, lasting document that truly addresses your needs and goals.
Marriages suffer when there are secrets. Getting a post-nup can help get information out in the open and make people feel more secure about their future. Are you considering a post-nuptial agreement? We can help you determine whether a post-nup fits your situation. To speak with one of our attorneys, please contact us today to schedule your confidential consultation. 
Read More:
Thinking About Becoming A SAHM Or SAHD? Here's Why You Need a POST-Nup
https://www.weinbergerlawgroup.com/wp-content/uploads/2022/12/Weinberger-Divorce-Family-LAw-Group-LLC.-520-×-118-px1.png
0
0
Weinberger Divorce & Family Law
https://www.weinbergerlawgroup.com/wp-content/uploads/2022/12/Weinberger-Divorce-Family-LAw-Group-LLC.-520-×-118-px1.png
Weinberger Divorce & Family Law
2017-03-23 23:18:33
2021-09-25 04:43:39
Why A Post-Nuptial Agreement Could Be Good For Your Relationship