Alternatives for Domestic Violence Offers DV Counseling Program For Korean Community
Domestic violence can affect people of all backgrounds and walks of life. But in New Jersey's Korean community, spousal or partner abuse is of special concern as language barriers and cultural norms may prevent victims for reaching out for the protection they need. What can be done to better support the Korean community? Here's how Alternatives for Domestic Violence, a long-standing Bergen County domestic violence organization, is stepping up to help.
Serving the Bergen County community for nearly 40 years, Alternatives for Domestic Violence (ADV) this month is launching new group counseling services for victims and survivors of domestic abuse within the Korean community. David Cohen, director of ADV said the program is designed to provide a group setting for Koreans who seek counseling with other Koreans. Nearly nearly 70,000 Koreans reside in Bergen County alone.
The program is 26 weeks long and will be provided in Korean. Mr. Cohen indicated to Voices of New York in a recent article that there "seemed to be a high demand within the Korean community for counseling services for domestic violence victims," but that finding a professional counselor who is bilingual in English and Korean was a challenge. But, last fall, the program hired bilingual counselor, Boram Song who will now be able to expand ADV's current program to offer Korean victims group counseling.
Services for the Korean community are needed. As Bomsinae Kim, director of the Korean American Family Service Center based in Queens, New York told NBC News, speaking out or reporting domestic abuse can be seen as taboo because of certain stigmas in Asian culture. "Oftentimes, the women may feel that ending an abusive relationship would bring shame to their family or that they must endure domestic abuse because of traditional gender roles in their culture," Kim stated.
Likewise, domestic violence rates in the Korean immigrant community are cause for concern. According to a study published by California State University in Los Angeles, immigrant Korean families experience the highest rate of domestic violence among Asian-American groups in Lost Angeles. Here on the East Coast, statistics from the Korean counseling centers in New York and New Jersey show that the number of individuals who have sought and gotten counseling for domestic abuse had doubled in late 2014, up from the second half of 2013. In the Bergen County community of Palisades Park, Koreans have accounted for 60 percent of individuals arrested for domestic violence, and many of these individuals had prior records for domestic violence incidents, according to police reports.
Alternatives for Domestic Violence provides all of Bergen county with an array of services to address domestic violence including one-on-one counseling, legal assistance, court accompaniment and services to help rehabilitate abusers. ADV located near the courthouse in Hackensack and their 24 hour hotline can be reached at (201) 336-7575. Of course, if you find yourself in an emergency situation, leave the area if possible and call 911.
Read More:
A Guide for Domestic Violence Victims in New Jersey
How to File for a Temporary Restraining Order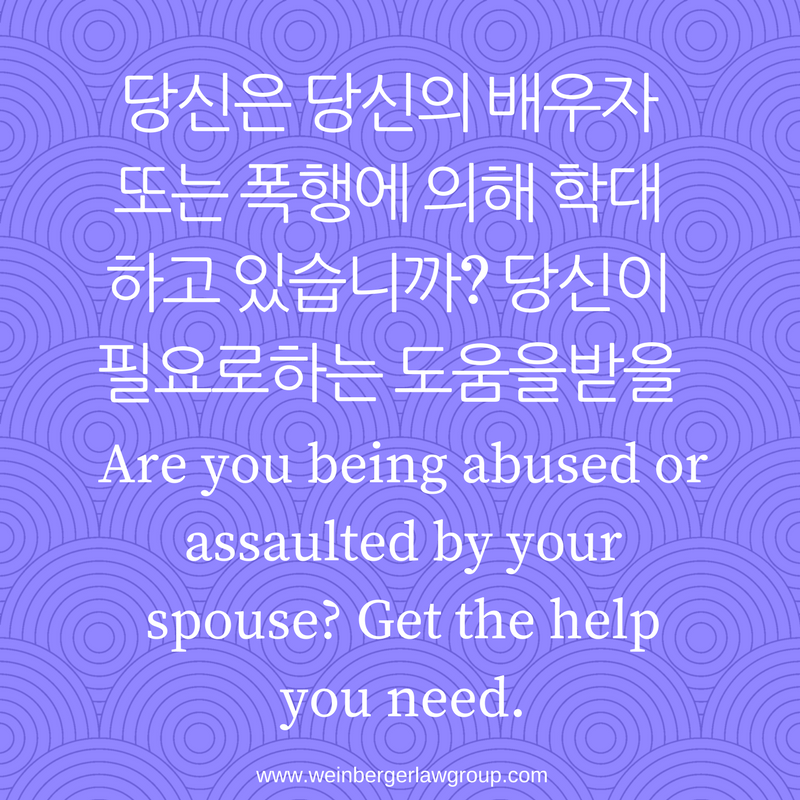 https://www.weinbergerlawgroup.com/wp-content/uploads/2017/03/Depositphotos_98053042_s-2015.jpg
334
500
Weinberger Divorce & Family Law
https://www.weinbergerlawgroup.com/wp-content/uploads/2022/12/Weinberger-Divorce-Family-LAw-Group-LLC.-520-×-118-px1.png
Weinberger Divorce & Family Law
2017-03-21 20:58:00
2017-03-21 20:58:00
Alternatives for Domestic Violence Offers DV Counseling Program For Korean Community