Caught Cheating: Can You File for Divorce Based On Adultery?
Your worst fears have been confirmed: your spouse has been having an extramarital affair. After careful consideration, you know that divorce is the best decision for you. But can you — or should you — file for your divorce based upon the grounds of adultery?
In New Jersey, the courts require that a person who is filing for divorce give the court a reason why they wish to end their marriage. These reasons are called "grounds" for divorce and there are several, including: eighteen months separation, irreconcilable differences, desertion, adultery, and more. It is important to mention that if you file for divorce based upon irreconcilable differences, this will be your easiest path to divorce, in most cases. Irreconcilable differences is a "no-fault" basis for divorce, meaning that neither you nor your spouse is at fault for the breakdown of your marriage. Adultery is a "fault-based" ground for divorce and can lead to very contentious and expensive proceedings.  It is critical that you consider your financial and emotional expense when selecting the grounds that apply to your divorce.
If you wish to file for divorce based upon adultery, you must mention this in your initial paperwork filed with the court, known as the Complaint for Divorce. You also must name of person (the correspondent) with whom your spouse committed adultery, if known.  If you do not know the person's name, then you must include a description of the person, and the time, place and description of the adulterous events. That person then essentially becomes a part of your divorce process and they have the right to respond to your allegations.
In most cases, the courts in New Jersey look at divorce more like the division of a business then of a relationship and because of this, they do not impose penalties or punishments on a cheating spouse. However, if you believe that your spouse spent marital money on the relationship, such as on lavish vacations or gifts, then you may be entitled to be reimbursed for this spending. In the unfortunate circumstance that your spouse passed on a sexually transmitted disease to you, you may be able to file a separate marital tort claim for financial compensation.
Whatever happened to bring about the situation you currently find yourself in, divorce and infidelity are heart-wrenching times in anyone's life. Carefully weigh your emotional health and the health of your children when deciding how to pursue your divorce and what the grounds will be. It may not be worth the price of your emotional well-being to put yourself through possibly a longer divorce ordeal when other options (i.e., filing on ground of irreconcilable differences) can help expedite the process.
What's the best approach for your situation? Before you file, speak with an attorney to weigh your options and come up with a strategy that puts your needs first. Our powerful team of family law attorneys are here to guide you towards a stable and secure future. You deserve a fresh start! Please contact us to schedule your initial attorney consultation.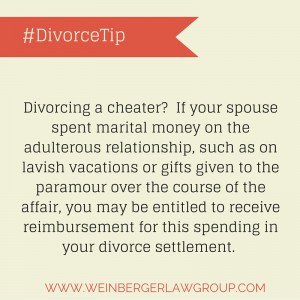 0
0
Weinberger Divorce & Family Law
https://www.weinbergerlawgroup.com/wp-content/uploads/2022/12/Weinberger-Divorce-Family-LAw-Group-LLC.-520-×-118-px1.png
Weinberger Divorce & Family Law
2016-01-28 15:43:30
2021-09-24 17:19:03
Caught Cheating: Can You File for Divorce Based On Adultery?