Who Says it Was an Agreement? When Palimony Becomes A Case in NJ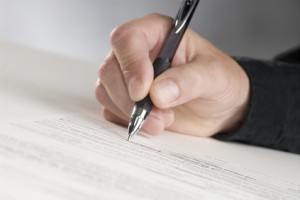 New Jersey family law attorneys and their "palimony" clients have been anxiously awaiting an important decision from the New Jersey Supreme Court in the appeal of Maeker v. Ross, 430 N.J. Super. 79 (App. Div. 2013). On September 25, 2014, the Court handed down its opinion, holding, in short, that parties to palimony agreements that have not been reduced to a signed writing can still go to court to enforce those agreements, provided they were made prior to January 18, 2010.
At issue in Maeker was a 2010 amendment to the New Jersey "statute of frauds." This statute covers a variety of agreements that present a high possibility of fraud by one party. The statute provides that "[n]o action shall be brought upon any [such] agreements or promises, unless the agreement or promise . . . or some memorandum or note thereof, shall be in writing, and signed by the party to be charged therewith . . . ." (N.J.S.A. 25:1-5). The 2010 amendment added "palimony agreements" to the statute, requiring all agreements containing a promise to provide support or other consideration to a partner in a marriage-like personal relationship to be put into a signed writing after advice from counsel (N.J.S.A. 25:1-5(h)). This represented a marked change from previous case law allowing New Jersey courts to enforce oral as well as written palimony agreements.
After the amendment became law, several lower courts nonetheless allowed suits to be brought on oral agreements predating 2010, either by challenging the amendment's retroactivity, or by allowing so called "equitable defenses," such as partial or full performance of the agreement by one party. For example, in an unreported case last year involving Sesame Street actor Roscoe Orman and his former longtime partner Sharon Joiner-Orman, the judge upheld their oral support agreement based on the fact that Joiner-Orman had fully performed her part of the agreement by acting as a homemaker and mother of the couple's four children for 39 years.
In Maeker, the parties had no children together, but they cohabited for about 13 years, during which defendant Ross not only supported plaintiff Maeker, but also contributed significantly to the support of her son. Plaintiff alleged that defendant had repeatedly promised her lifetime support. The trial court awarded her temporary support, but the appellate court overturned the award, determining that the claim was barred because it was filed after the effective date of the amendment. The appellate court also declined to recognize Maeker's equitable claim of partial performance, stating that recognizing performance as a defense seemed to run counter to the expressed intent of the legislature. While leaving open the possibility that full performance of exceptional or peculiar services might be enough to override the amendment, the court found that no such circumstances existed in this case; on the contrary, there had been only partial performance of very ordinary services, for which plaintiff had already been adequately compensated. The Supreme Court overturned the appellate court's decision and reinstated the ruling of the lower court.
What exactly was the basis of the Supreme Court's decision?
The Court decided that the New Jersey Legislature did not intend the amendment to apply retroactively. Much of the confusion in the lower courts stemmed from the fact that the statutory language appears to bar any enforcement action on an agreement that is not in writing at the time that the action is brought. That interpretation however, has fallen away under scrutiny of rather ancient case law. The Supreme Court referred all the way back to Ford v. Potts, a New Jersey decision rendered in 1797. The Ford Court stated that "[a] parol [oral] promise, made before the statute of frauds, to be performed afterwards, is not within it, though the statute says, no suit shall be brought, after a certain day, on a parol promise, and the suit was brought after that day." The Maeker Court confirmed that despite the fact that this case is well over 200 years old, it still stands as law. The Court also pointed out that such an interpretation is consistent with the New Jersey constitution, which bars the legislature from passing any law that deprives a party to a contract from a remedy for enforcement that existed when the contract was made (Article IV, Section VII, para. 3). The Court found no need to reach the issue of equitable defenses.
What does this mean for palimony agreements going forward?
Maeker has implications only for oral palimony agreements entered into before January 18, 2010. If you entered into an oral agreement before that date, you can still attempt to prove your agreement in court without a writing and the court will consider the acts and conduct of each party in light of all of the surrounding circumstances (Kozlowski v. Kozlowski, 80 N.J. 378, 1979).
Whether equitable defenses should be allowed when an oral palimony agreement is entered into after January 18, 2010 is still an open question, and if a split develops in the lower courts regarding that issue, we may eventually see the New Jersey Supreme Court take that question up as well. In the meantime, however, no one currently in a cohabitation arrangement should rely on the courts to enforce an oral agreement. Even if your agreement existed before January 18, 2010, you are much better off getting it writing. If it didn't exist until after that, no question about it, you need to talk to an attorney and get it written up and signed right away!
https://www.weinbergerlawgroup.com/wp-content/uploads/2022/12/Weinberger-Divorce-Family-LAw-Group-LLC.-520-×-118-px1.png
0
0
Weinberger Divorce & Family Law
https://www.weinbergerlawgroup.com/wp-content/uploads/2022/12/Weinberger-Divorce-Family-LAw-Group-LLC.-520-×-118-px1.png
Weinberger Divorce & Family Law
2014-09-26 11:24:56
2017-07-15 12:45:42
Who Says it Was an Agreement? When Palimony Becomes A Case in NJ