NFL: Disgusting. #WomenMatterNotBalls

If you've tuned into any NFL game in the past few weeks, you know that teams have been given a pink makeover in honor of Breast Cancer Awareness Month. From pink mouthguards and pink ribbons on helmets to pink pompoms waved by the crowds, the message being sent to viewers and fans is that the National Football League is an organization that cares about the well-being of women.
But does it really? Given Wednesday's disturbing revelations about New York Giants' kicker Josh Brown's history of domestic violence against his former wife, and the light one-game suspension the NFL deemed appropriate to hand down after Brown's 2015 arrest for domestic violence, this is a fair question to ask of the NFL. And we want answers…
According to reports, Brown was arrested on fourth degree domestic violence assault charges in King County, Washington in May 2015, stemming from an alleged altercation with his then wife Molly. The charges against Brown were eventually dropped when Molly decided not to pursue, but this week the State of Washington made some of the evidence in the case public…and it is distressing. Among the documents released include written statements from Molly accusing Brown of "more than 20" incidents of domestic violence, a signed Contract for Change from 2013 in which Brown confesses, "I have physically, verbally and emotionally abused my wife," and entries from Brown's own journals in which he vividly details his abusive history.
The NFL conducted its own investigation into the matter as it weighed how to censure Brown under the league's Personal Conduct Policy. The policy, established in the wake of the Ray Rice domestic violence scandal that rocked the NFL in 2014, states that any domestic violence offense will result in "a suspension without pay of six games for a first offense," with "consideration given to mitigating factors."
What mitigating factors could possibly have led Brown to only miss out on one game this season, and not six? The NFL claims its investigation was hampered because the police and the victim were not cooperative enough.
"NFL investigators made repeated attempts — both orally and in writing — to obtain any and all evidence and relevant information in this case from the King County Sheriff's Office," the league said in a statement. "Each of those requests was denied and the Sheriff's Office declined to provide any of the requested information, which ultimately limited our ability to fully investigate this matter." Molly also declined to speak with NFL investigators, though reports state the NFL had police statements from Molly alleging the 20 prior incidents of abuse at the time they made their one-game suspension decision.
After Ray Rice, one would think that the NFL would have learned something about the complexity of domestic violence investigations and the reluctance of many victims to come forward, owing largely to the fear of repercussions. Domestic violence investigations often require time and a great deal of effort.
Which brings up the very real question of where this investigation ranked for the NFL in importance and priority. After all, let us not forget that it was also in May 2015 that the NFL published a 243-page report regarding the deflation of footballs used in the previous season's AFC Championship game, specifically calling out Number 12 quarterback for the New England Patriots, Tom Brady. Over the next year, Brady and the NFL would tangle in negotiation rooms and courtrooms as the NFL legal team relentlessly pursued what it believed to be "substantial and credible evidence" that Brady knew Patriots employees were deflating footballs.
In May 2015, the NFL sent Brady these stern words: "Your actions as set forth in the report clearly constitute conduct detrimental to the integrity of and public confidence in the game of professional football."
Was Josh Brown ever sent a similar letter in 2015? If you recall from the "Deflategate" days, neither the Patriots' management nor Tom Brady were very willing to give statements or hand over information. It is inconceivable that NFL Commissioner Roger Goodell would have shrugged and said, "Guess we'll just need to call it a day and make a decision with what we've got." Deflategate was vigorously litigated and appealed all the way up to the NFL filing papers in federal court! The legal resources of the NFL are deep. Did they pursue evidence in the Brown case with this same zeal? The answer seems obvious.
And then there is the matter of consequences… Tom Brady received a 4-game suspension for allegedly knowing that air was being let out of footballs. Josh Brown received a 1-game suspension for an alleged assault on his wife. What kind of mixed message is that?
NFL & Domestic Violence: #WomenMatterNotBalls
We are calling on the NFL to take a good hard look at their own Personal Conduct Policy for domestic violence and what it means that the 6-game suspension language everyone was led to believe was a stringent blanket policy when it was announced back in 2014…is far from it. Commissioner Goodell and NFL owners, we are putting it to you directly: Close the loopholes and convey in no uncertain terms that you are honorable men and that DV and spousal abuse is not tolerated anywhere near your playing fields.
If you need help getting there, solutions-based steps we encourage you to embrace include:
Increased domestic violence prevention education and awareness among players as a mandated part of their contractual obligations.
Mandatory counseling in follow up to any allegation or charge of domestic violence.
Counseling services offered free of charge to the victim(s) and affected family members, including children.
You use the term mitigating factors. If a player has abused a woman, there are no mitigating factors. Ever. You including that language implies there can be situations when a victim doesn't deserve full protection…or even that a victim somehow partly deserved the abuse! This is outrageous. Is mitigating factors really a euphemism for "victim blaming"? You need to provide clearer policy language on the 6-game suspension rule so that we can truly see where you stand on this issue.
Greater transparency about how domestic violence investigations are conducted. We encourage you to work with family law attorneys who handle domestic violence cases every day as part of their practice. Corporate or contract lawyers may simply not be as intimately acquainted with this area of the law, and this can hinder investigations.
Finally, we encourage league players to speak out against domestic violence and become leading voices for change in this arena. The NFL seems to be consumed this month with showing just how supportive they are of women. Yes, the attention to the incredibly worthy cause of breast cancer awareness is appreciated and important. But when is the message from the NFL ever truly going to be: #womenmatternotballs? In the midst of all the pink, it's long past time to add some large dashes of purple…the official color of another awareness month taking place this October: National Domestic Violence Awareness Month.
Tell us, are these your true colors or not?
Update: Given the newly released evidence, Giants co-owner John Mara made a decision to make Josh Brown inactive at least through the team's exhibition game this weekend in London. The NFL stated it will thoroughly review the newly revealed allegations against Brown.
Read More:
An Open Letter to the NFL: Play this Year's Super Bowl Off the Field
Free Ebook: A Guide for Domestic Violence Victims in New Jersey [download]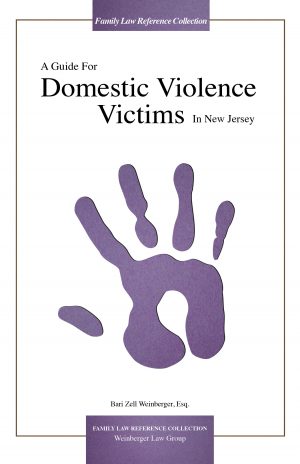 Are you experiencing domestic abuse by your spouse or partner? You can get help and you can be safe. In an emergency, call 911. For safe house shelter information and to be connected with local resources, call the NJ Domestic Violence Hotline at 1 (800) 572-SAFE (7233). To understand your legal rights and options, including filing for a temporary restraining order, and temporary alimony and child support, our family law attorneys are here for you and committed to your safety. Please contact us to schedule your free confidential consultation.
0
0
Weinberger Divorce & Family Law
https://www.weinbergerlawgroup.com/wp-content/uploads/2022/12/Weinberger-Divorce-Family-LAw-Group-LLC.-520-×-118-px1.png
Weinberger Divorce & Family Law
2016-10-21 08:22:16
2017-07-15 16:06:09
NFL: Disgusting. #WomenMatterNotBalls