Kent & Liz Swig: Divorce of Real Estate Moguls Shows Importance of Post-Nuptial Agreement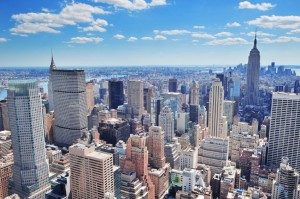 A recent piece in the New York Times outlining the rise and fall — and eventual divorce — of one of New York City's financial power couples describes a scenario straight out of the 1% files. The boom-bust saga, however, also contains a few important lessons for any couple dealing with matters of assets, debts, and complicated business ties as part of their separation or divorce.
Described in the story are the lives of Elizabeth and Kent Swig, once considered the "royal couple" of the New York City real estate scene. Their marriage, in 1987, united two of America's great real estate clans, the Macklowes of New York on her side, and the Swigs of San Francisco on his.
At their peak, according to the Times:
As the onetime protégé of his father-in-law, Harry B. Macklowe, the powerful New York property developer, Mr. Swig was soon credited with helping transform the dull-as-bond-tables financial district into a fashionable residential address. In a business where there was always revolving credit and a bigger deal, the only way, it seemed, was up. At the peak, his properties were worth an easy $3 billion.
Ms. Swig was also involved:
"I have great respect and admiration for Kent's real estate deals," Ms. Swig told Gotham magazine in the spring of 2008. "I get to play with the interiors of his buildings, and we have fun. It's a really wonderful marriage of the two things."
All seemed to be going well, until the housing bust of 2008. With numerous condo projects in New York unsellable, a number of huge business loans being called in, and a growing number of lawsuits brought by investors smarting from financial loss, the Swigs faced the unthinkable: foreclosure on their white glove Park Avenue apartment and personal bankruptcy.
Like couples in the rest of the 99%, the financial strain also put a strain on their marriage. Unlike most other couples, the Swigs were able to obtain financial relief via personal help from Liz Swig's father, the still very wealthy real estate developer, Harry Macklowe.
However, the money wasn't handed over without a catch. Kent Swig had to agree to sign a post-nuptial agreement that outlined specific financial terms:
The same day that his in-laws gave him the loan, Mr. Swig signed a postnuptial agreement with his wife. In the event of a divorce, Ms. Swig would get both homes, while he would assume responsibility for the debts against the properties. She would also get almost $12 million in artwork, including works by Jeff Koons and Takashi Murakami.

Ms. Swig also declared sole ownership of $1.8 million in jewelry and $11 million worth of furnishings, including a $1,000 pig-shaped ashtray in the cigar room and a pair of Albert Cheuret sconces, circa 1925, which were valued at $100,000.
What is a post-nuptial agreement? It's a document a couple can negotiate and sign at any point during their marriage that can outline issues of money, assets, debt, and spousal support in the event of divorce. As we've written about before, post-nuptial agreements can be a valuable safeguard to have in place even in circumstances such as where one parent decides to leave their career to stay home and raise the kids.
In the case of the Swigs, the timing of their post-nuptial agreement was also a case of good timing, at least for Liz Swig, because 5 months after they signed the document…
Liz and Kent Swig filed for divorce.
https://www.weinbergerlawgroup.com/wp-content/uploads/2022/12/Weinberger-Divorce-Family-LAw-Group-LLC.-520-×-118-px1.png
0
0
Weinberger Divorce & Family Law
https://www.weinbergerlawgroup.com/wp-content/uploads/2022/12/Weinberger-Divorce-Family-LAw-Group-LLC.-520-×-118-px1.png
Weinberger Divorce & Family Law
2014-02-05 16:02:27
2017-07-14 05:30:28
Kent & Liz Swig: Divorce of Real Estate Moguls Shows Importance of Post-Nuptial Agreement