High Society Couple to Hold Hamptons "Divorce Yard Sale"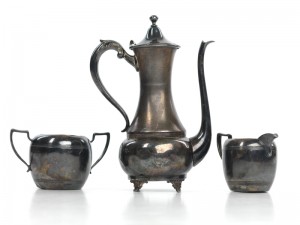 The posh summer season in the Hamptons will get off to an usual start this Memorial Day Weekend with the "divorce yard sale" of James B. Fairchild and Whitney St. John, a couple once billed as a modern day F. Scott and Zelda Fitzgerald. According to the NY Daily News, Fairchild, son of former Women's Wear Daily and W publisher John Fairchild, and St. John, a high society real estate broker, have decided to hold a joint sale of antiques and collectibles as part of their divorce settlement. Rather than try to divvy up these marital assets between themselves, the couple will try to unload their prized antiques, paintings, furniture, clothes, cars and jewelry, and then split the money.
As the Daily News reports, Fairchild and St. John have been locked in a divorce battle since 2011. This year saw a breakthrough when the pair was able to come to an agreement over custody of their two sons, but a stalemate remained over how to split several hundred thousand dollars' worth of possessions.
Apparently, at some point in the process, it was discussed that both parties would be given stickers to go through and pick out what they believed was theirs. This is actually a common suggestion for couples trying to split household goods because it is a way to quickly see which items are in dispute and which items are not. For whatever reason, this system failed to work for St. John and Fairchild. The two ultimately agreed to hold a public auction at their marital mansion over the Memorial Day Weekend (the official start of the Hamptons social season), with the sale handled by either Christie's or Sotheby's. The pair will split the proceeds, say sources.
Are divorce yard sales only for the rich? Not at all. For couples at odds over items including furniture, televisions and electronics, cars, motorcycles, and collectibles that fall into the category of marital property, one way to deal with disputed assets is to simply sell them and divide the money. What we do see more commonly is that couples successfully use marital property as bargaining chips when negotiating their settlement. For example, it is not unusual for one party to say, "I'll give up claim to the (jointly owned) motor boat in exchange for all the (jointly owned) household furnishings."
You can find out more about divorce yard sales in our blog, Getting Top Dollar For Items Sold in a Divorce. We're also curious… If you're heading to the Hamptons for Memorial Day, will you stop by this sale?
https://www.weinbergerlawgroup.com/wp-content/uploads/2022/12/Weinberger-Divorce-Family-LAw-Group-LLC.-520-×-118-px1.png
0
0
Weinberger Divorce & Family Law
https://www.weinbergerlawgroup.com/wp-content/uploads/2022/12/Weinberger-Divorce-Family-LAw-Group-LLC.-520-×-118-px1.png
Weinberger Divorce & Family Law
2014-04-07 14:52:40
2017-07-14 10:16:33
High Society Couple to Hold Hamptons "Divorce Yard Sale"