5 Steps to Take Before Meeting Your Divorce Attorney for the First Time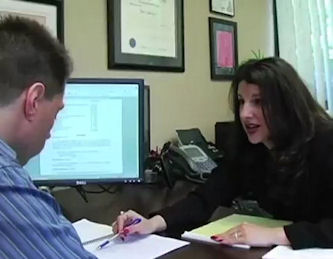 You've shopped around for a great divorce lawyer and now it's time for your first meeting. What should you expect from your attorney – and how should you prepare? Here are five important steps to take before that all-important initial visit.
1. Don't Stress Out!
Divorce is already stressful enough without having to take on new anxiety about what will happen the first time you meet your lawyer. If you've done your homework and made an appointment with a attorneys, this person is going to know what to do and what questions to ask you in order to get the process started. To help you feel more relaxed, ask at the time you make the appointment about what kind of paperwork you should bring (especially if you have already filed for divorce or have a restraining order in place), how long you can expect the appointment to last, and the cost of this first meeting.
2. Prepare a Wish List
If you could sign a divorce settlement right this instant, what would it say? What kinds of provisions would it contain? Before your meeting, brainstorm a wish list of what you want from this divorce. It doesn't have to be a three page list – just try to think of your top 10 wants. For example, do you want to remain in the family home? Write it down and let your lawyer know. This is the kind of information that solicits conversation and is useful to your lawyer in understanding your goals.
3. Gather Available Financial Information
If you have access to financial records, bring photocopies of the last three years of tax returns, W-2's, pay stubs, any and all bank account and credit card statements, business ownership information, stock and other financial accounts, and any 401-K or retirement plan statements. Go ahead and make copies regardless of whether it's a joint account or in one spouse's name only. Remember, whose name is on the account doesn't necessarily translate into who gets it at the end of the day or that the asset is exempt from New Jersey's equitable distribution laws. If you don't have access to financial information at this time, don't stress – this is information that the lawyer can obtain during the discovery process.
4. Bring a List of Questions
Your lawyer will have plenty of questions for you, but your first meeting is also a chance for you to voice your most pressing concerns. Questions about divorce that are commonly asked at an initial meeting include: Can I receive temporary child support or spousal support since my spouse no longer resides with me? How and when do we set up a temporary child custody agreement? Should I freeze all of our bank and credit card accounts? Who is responsible for paying the mortgage? Jot these down beforehand so you don't forget — or better yet, email them to the lawyer in advance of your meeting.
5. Prepare for a New Relationship
The end of your marital relationship with your spouse is the beginning of a new relationship with your divorce lawyer, so be prepared with some "getting to know you" types of questions. If this is the first time you have ever spoken or laid eyes on your lawyer, ask about their experience, years in practice, his or her initial thoughts on your case, and how the two of you will stay in contact throughout your case. Finding out upfront about rates and billing can also save many headaches down the road. Come with a list of what you want to know and get ready to ask away!
Ready to move forward with filing for divorce, but still searching for the right lawyer? The family law attorneys at Weinberger Divorce & Family Law Group, LLC can help. For a completely confidential initial consultation, please contact Weinberger Divorce & Family Law Group, LLC at (973) 520-8822 or through our Contact Form. 
https://www.weinbergerlawgroup.com/wp-content/uploads/2022/12/Weinberger-Divorce-Family-LAw-Group-LLC.-520-×-118-px1.png
0
0
Weinberger Divorce & Family Law
https://www.weinbergerlawgroup.com/wp-content/uploads/2022/12/Weinberger-Divorce-Family-LAw-Group-LLC.-520-×-118-px1.png
Weinberger Divorce & Family Law
2012-03-07 07:43:17
2023-01-11 14:15:42
5 Steps to Take Before Meeting Your Divorce Attorney for the First Time