Complex Child Custody: How Is "Tri-Custody" Awarded?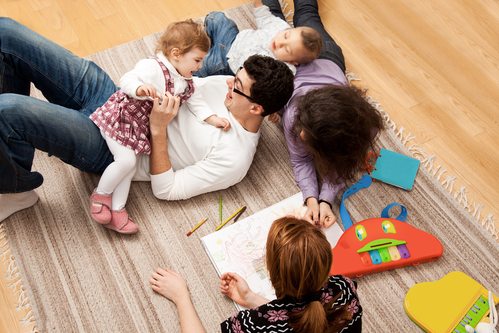 Can a child ever have three legal parents? Yes! As modern family configurations continue to evolve and shift, a growing number of courts are awarding "tri-custody," or shared legal and physical custody of a child split three ways. What circumstances can trigger a tri-parenting arrangement? Key recent court rulings outline what factors determine whether tri-custody is in a child's best interests.
Tri-Custody in New Jersey & New York
In 2016, a gay couple in New Jersey filed suit in the family court attempting to prevent a child and her mother from moving to California. That child was the biological child of one of the husbands. Both husbands and the mother of the child had all agreed to become parents to a baby, with one spouse donating sperm and the other giving the child his last name. The agreement worked well, until the mother of the child met a man who lived in California and wanted to relocate there with the daughter. The court found that even though one of the husbands was not a biological parent, his involvement with and bond to his daughter made him a psychological parent with rights to custody and parenting time. Ultimately the court did not permit the move as being in the best interests of the child.
More recently, a "tri-custody" case was settled in the New York courts. In that matter, Michael Marano and his ex-wife Dawn entered into an open relationship with their neighbor, Audria Garcia, who ultimately became pregnant and had Marano's son in 2007. Mr. and Ms. Marano had been unable to have children on their own and the three of them agreed to parent the boy all together. Like in the New Jersey case, in the beginning, the relationship seemed to work and all three routinely cared for and were involved in the child's life.
However, Ms. Marano eventually left Mr. Marano and began a full-time relationship with Ms. Garcia, the boy's biological mother. At that time, their son was about 18 months old. Ms. Marano and Ms. Garcia moved with the child to another area of Long Island. The move prompted Mr. Marano to bring suit against Garcia for custody of their son and prompted Ms. Marano to file for divorce.
Unlike the New Jersey case, joint custody was given to Mr. Marano and Ms. Garcia, the biological parents in the divorce case, but Ms. Marano was not given any legal rights to custody or parenting time, despite her having a significant bond and relationship with the child. Ms. Marano then filed a new application with the court, seeking rights to custody to the child. After a trial, Judge Leis awarded tri-custody or rights to all three involved. He indicated that it was the child's son recognizing both Ms. Marano and Ms. Garcia as mothers to him swayed his decision to award custody to all three parties.
More and more states are recognizing more than two parents in custody and parenting time decisions. For example, states like Alaska and Oregon, among others, permit what are known as "third parent adoptions" in certain circumstances. California has the most detailed law: a bill was passed in 2013 that permitted "the parenting arrangement to stand if a child has two mothers and a father."
We are in the age of less typical parenting and custody arrangements and as families continue to evolve in new ways, courts will be force to amend prior laws and rulings to accommodate these newer and novel parenting relationships and arrangements.
If you have questions about custody, psychological parenting or any other family law issue, contact us today to schedule your initial consultation with one of our experienced and qualified family law attorneys.
Read More:
Are you a psychological parent?
https://www.weinbergerlawgroup.com/wp-content/uploads/2022/12/Weinberger-Divorce-Family-LAw-Group-LLC.-520-×-118-px1.png
0
0
Weinberger Divorce & Family Law
https://www.weinbergerlawgroup.com/wp-content/uploads/2022/12/Weinberger-Divorce-Family-LAw-Group-LLC.-520-×-118-px1.png
Weinberger Divorce & Family Law
2017-03-13 21:27:47
2021-09-25 04:05:42
Complex Child Custody: How Is "Tri-Custody" Awarded?