Thinking Ahead: The Power of a Prenup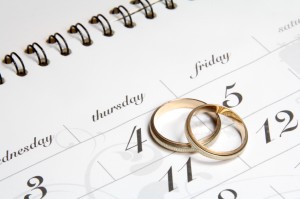 With spring almost here, wedding season is on the way. If your nuptials will take place sometime in the coming months, have you taken a moment to think about the road ahead, after the ceremony and honeymoon, when "real life" as a married couple begins? It is always the hope that the stage will be set for marital bliss, but it's also prudent to take some realistic steps towards making sure you are protected and "insured" no matter what the future brings.
This is why, as part of the wedding planning process, more and more couples here in New Jersey, and in other states around the US, are taking time to sit down and hammer out the terms of a prenuptial agreement, a legally binding document that lays out certain financial issues, including what happens to certain assets and/or spousal support amounts, should the couple ever decide to divorce.
As stigmas around prenups have lessened in recent years, it has become easier for people to understand the value of these documents. Just like having a life insurance policy, a New Jersey prenup is put in place not because you want it to be used, but because if it needs to be invoked, you can feel more at peace (and less uncertain) about your future.
Who needs a prenup? It's easy enough to simply say "anyone thinking about getting married," but there are some couples for whom putting a prenuptial document in place is more of a priority. Using some examples from possible 2014 celebrity weddings, here are some marital situations that are best covered by a prenup.
Both spouses are high earners: Bridal Magazine has predicted that 2014's "wedding of the year" will belong to Angelina Jolie and Brad Pitt. The celebrity couple has been together since 2006 and have six children together. Why do they need a prenup? One main reason: to continue keeping their assets separate. If they do get married and then get a divorce, in California (where the family resides), any assets acquired by either after marriage would subject to the state's 50% community property laws. In the case of non-celebrities, if you already have a home and a retirement plan, and your soon-to-be spouse likewise has ample savings, you may want to come to agreement that this financial resources be kept separate from marital assets. Especially if you are both older and established when you decide to marry, getting a prenup just makes good sense.
There is income disparity between spouses. Another wedding that may be in the offing this year belongs to Jennifer Lopez and her longtime beau, Casper Smart. Lopez, with her music and acting career, appears to far outgross Smart, a professional dancer. It would make sense for Lopez, as the higher earner, to outline her terms for Smart in the event of a divorce, including any spousal support she would pay out. For Smart, having a prenup put in place, also makes sense, as he would be able to pre-negotiate spousal support or asset division in a way that helps him feel confident that the lifestyle he shares with Lopez would be maintained. For non-celebrity couples, it's these kinds of decisions that can bring peace of mind.
One or both spouses-to-be have children from previous relationships. Another marriage predicted for 2014 belongs to actress Uma Thurman and longtime beau, Arpad Busson. Thurman has two children from a previous marriage, as does Busson. If either spouses wishes to earmark certain assets for their children (rather than being possibly split during a divorce), putting a prenuptial agreement in place is a way to take those assets off the table.
Still not sure harnessing the power of the prenup is for you? Read our related blog: 5 People Who Need a Prenuptial Agreement
https://www.weinbergerlawgroup.com/wp-content/uploads/2022/12/Weinberger-Divorce-Family-LAw-Group-LLC.-520-×-118-px1.png
0
0
Weinberger Divorce & Family Law
https://www.weinbergerlawgroup.com/wp-content/uploads/2022/12/Weinberger-Divorce-Family-LAw-Group-LLC.-520-×-118-px1.png
Weinberger Divorce & Family Law
2014-03-17 17:54:17
2014-03-17 17:54:17
Thinking Ahead: The Power of a Prenup