Give Victims a Voice: Donate Used Cell Phones to Aid Local Domestic Violence Prevention Programs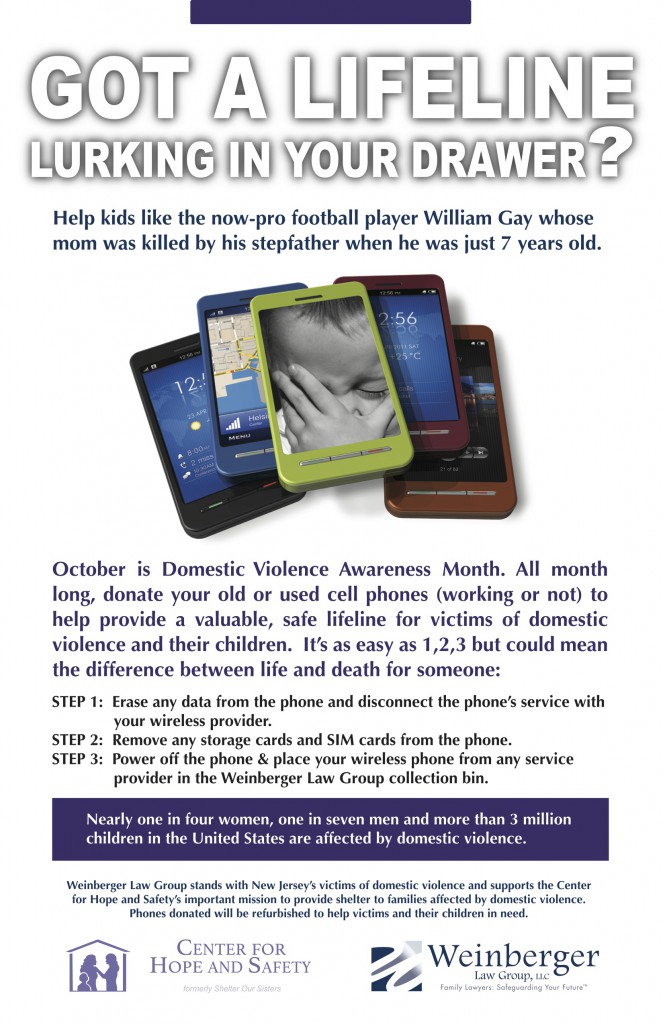 In honor of October's Domestic Violence Awareness Month, Weinberger Divorce & Family Law Group, LLC is partnering with the Center for Hope and Safety, a Hackensack-based domestic violence shelter and education non-profit, to give a voice to domestic victims by collecting used cell phones for the HopeLine project.
Sponsored by Verizon Wireless, phones collected through Hopeline donation drives are refurbished and sold, with proceeds forwarded on to give thousands of new cell phones (including airtime) directly to victims and their families, and provide local and national DV-related groups, including the Center for Hope and Safety, with much-needed funding.
The inspiration for the HopeLine project comes from stories like the one told by professional football player, William Gay, whose mother was killed by an abusive husband, Gay's step-father, when Gay was a young child. Watch his powerful story in this PSA for HopeLine:
Are you ready to turn your old phone line into a brand new lifeline? Follow these simple steps:
STEP 1: Erase any data from the phone and disconnect the phone's service with your wireless provider.
STEP 2: Remove any storage cards and SIM cards from the phone.
STEP 3: Power off the phone.
STEP 4: Stop by any of our Weinberger Divorce & Family Law Group, LLC offices throughout the month and drop off your phone in the marked donation bin.
Since its launch in October 2001, HopeLine has collected over 11 million phones, donated more than $20 million to domestic violence non-profit organizations, and distributed nearly 200,000 phones to victims.
Donating a phone is a small gesture, but something that can make a BIG difference for victims of domestic violence. We will be collecting phones throughout Domestic Violence Awareness Month, in addition to our other planned staff observances and awareness activities.
0
0
Weinberger Divorce & Family Law
https://www.weinbergerlawgroup.com/wp-content/uploads/2022/12/Weinberger-Divorce-Family-LAw-Group-LLC.-520-×-118-px1.png
Weinberger Divorce & Family Law
2015-09-30 20:54:29
2023-01-11 16:03:11
Give Victims a Voice: Donate Used Cell Phones to Aid Local Domestic Violence Prevention Programs