Join Us on Twitter or Facebook for Family Law Friday
Weinberger Divorce & Family Law Group, LLC is excited to announce the first edition of Family Law Friday, a new Twitter Party and Facebook chat that invites anyone with an interest in divorce and family law matters in New Jersey to connect with us on Friday from 12 pm – 1 pm EST. All participants are automatically entered in a free book giveaway!
Who Should Attend?
You can participate in Family Law Friday two ways:
Twitter Party: Join the party using #AskLegalNJ
Facebook Chat: Visit the Weinberger Divorce & Family Law Group, LLC Facebook page and leave your question or comment on the Family Law Friday post or private message us with your question or comment.
And yes, there will be prizes! At the end of the hour, the names/Twitter handles of all those who participated will be gathered and one name will be drawn at random to receive a free copy of Bari Z. Weinberger's newly published book, Your Guide to Uncontested Divorce in New Jersey. It's hot off the press with all the latest information you need to reach a fair and fast settlement in your divorce.
We look forward to chatting on Friday! Please tweet us @weinbergerlaw or message us on Facebook with any questions before the chat.
Made the decision to divorce or in a dispute over child support, child custody, or a related family law issue? Our attorneys are here to help. Please contact us to schedule your initial attorney consultation.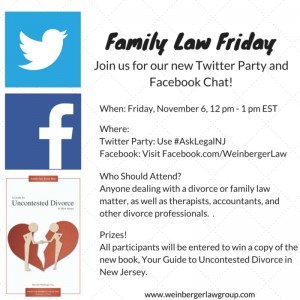 0
0
Weinberger Divorce & Family Law
https://www.weinbergerlawgroup.com/wp-content/uploads/2022/12/Weinberger-Divorce-Family-LAw-Group-LLC.-520-×-118-px1.png
Weinberger Divorce & Family Law
2015-11-04 09:02:54
2023-01-11 15:26:53
Join Us on Twitter or Facebook for Family Law Friday