WLG Recognizes Domestic Violence Awareness Month With FREE Legal Resources
In honor of October's Domestic Violence Awareness Month, Weinberger Divorce & Family Law Group, LLC has created a number of free resources to help victims of spousal or intimate partner abuse protect themselves and their children.
It's estimated that up to 25 percent of relationships in New Jersey are impacted by abuse. Domestic violence does not discriminate: It can be found in both straight and same-sex relationships, and victims can be either female or male. All victims of abuse deserve to be safeguarded.
Please use our free tools and downloads to start building a safer future. If you know a loved one who may be experiencing abuse, or you work for a domestic violence shelter or agency New Jersey, we ask that you share this information with anyone who may need it.
Our resources include:Free Presentation: Domestic Violence 101: A Guide For Spousal Abuse Victims In New Jersey from Weinberger Divorce & Family Law Group, LLC
The slide-based presentation provides support and legal information for domestic abuse victims, including: What is domestic violence? What are the signs of domestic abuse? How can you get help for spousal abuse in New Jersey? How do you obtain a temporary restraining order? Why is timing so important in getting a final restraining order? And more…
Free Book: A Guide For Domestic Violence Victims In New Jersey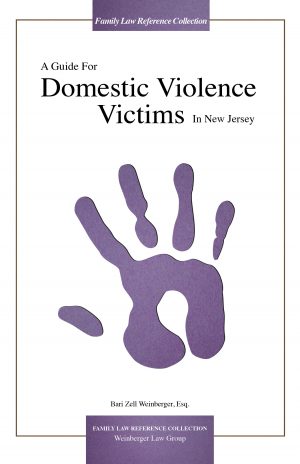 Written by Weinberger Divorce & Family Law Group, LLC founder and family law expert, Bari Z. Weinberger, A Guide For Domestic Violence Victims In New Jersey walks you through the many forms of legal help available to women and men seeking assistance and protection in a domestic violence matter. With real-life examples and easy-to-follow information, readers will understand how to seek police assistance, find shelter, fill out a temporary restraining order request form, file for temporary spousal and child support, learn what information judges look for when deciding whether or not to turn a TRO into a permanent order of protection, how to maintain a confidential address, and more. Download your free ebook here.
Free Download: Spousal Cyber Spying: Are You At Risk?
In today's high tech world, an abusive spouse can easily use GPS apps or spyware technologies to cyber stalk their partner. If your spouse demonstrates controlling or abusive behavior and also enjoys technological tinkering, you may have special cause for concern. Our download teaches you how to recognize the signs of cyber spying and how to get help.
Free Download: Keeping Computers & Smartphones Safe From Spying Spouses
From smartphones that track GPS to spyware placed on computers that log your internet browsing history, our download teaches you how to keep your tech devices safe from a spying spouse or partner.
Free Resource Guide to New Jersey's Domestic Violence Shelters
Learn where to find shelters and other domestic violence agencies in New Jersey with our free resource guide
Free Domestic Violence Attorney Consultations: Learn about your rights and legal options by meeting with one of our compassionate family law attorneys for FREE. In your consultation, you and your attorney will discuss the specifics of your domestic violence situation and the legal remedies that can get you to safety, including filing for a restraining order, filing for temporary spousal and child support, emergency custody, and how to file for divorce, if applicable. Our attorneys understand how high the stakes are in domestic violence situations and are committed to safeguarding your future. We have locations in Bergen, Burlington, Monmouth, Morris, and Somerset counties and serve clients throughout New Jersey. Please use our contact form or call us today at (888) 888-0919 to claim your free meeting. For added peace of mind, please note that you discuss with your attorney is COMPLETELY confidential.
Don't see a resource on this that you would like to see made available? Tweet us @weinbergerlaw and let us know what information you think needs to be shared to help domestic abuse victims in New Jersey.
https://www.weinbergerlawgroup.com/wp-content/uploads/2016/10/DV-front-Cvr-e1475783231809-1.jpg
464
300
Weinberger Divorce & Family Law
https://www.weinbergerlawgroup.com/wp-content/uploads/2022/12/Weinberger-Divorce-Family-LAw-Group-LLC.-520-×-118-px1.png
Weinberger Divorce & Family Law
2018-10-08 16:23:14
2023-01-11 15:47:17
WLG Recognizes Domestic Violence Awareness Month With FREE Legal Resources