What Is a Covenant Marriage?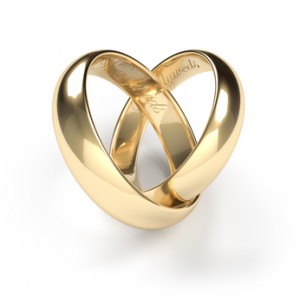 Making headlines in wedding news this week are the nuptials of Jill Duggar, the second eldest daughter of TV's famous 19 Kids and Counting Duggar clan, and her new husband, Derick Dillard. Their wedding — which recently aired on TLC — is all the buzz not just because of the Duggar's reality TV celebrity, but because the two decided to enter into a different kind of marital agreement called a "covenant marriage."
Just what does a covenant marriage entail? Essentially, it's a type of marriage certificate that comes with legal strings attached to make ending the marriage in divorce a more difficult process. In covenant marriages, filing for a "no fault" divorce on the grounds of "irreconcilable differences" is prohibited and other available divorce grounds limited. Likewise, couples in covenant marriages who decide to split must go through a longer (18-months or more) separation before a divorce is allowed. Couples are also required to attend pre-marital counseling.
Arkansas, where the Duggars live, as well as Louisiana and Arizona, are the only three states that currently offer the legally distinct covenant marriage. However, legislation to establish covenant marriage has been introduced or discussed in a number of states including California, Florida, Texas and Maryland.
Where it is legal, only around 1 to 2 percent of couples opt to become bound to the rules of covenant marriage. Religious reasons are typically cited as the prime motivation for choosing this kind of marriage certificate.
What if covenant marriage having its moment in the Duggar spotlight increases the numbers who choose this path? It could conceivable have an impact on the marriage landscape in the US, including the ability of couples to get married after a short engagement. What would happen to the Vegas wedding chapel industry if more and more couples required premarital counseling? Would eloping become a thing of the past?
While proponents of covenant marriages say that making divorce more difficult to obtain gives couples more chances to work through their problems instead of turn to divorce at the first sign of marital breakdown, others say it's not fair to legally delay divorce when one partner wants out, especially if there is abuse or violence present in the relationship.
This more "ironclad" type of marriage arrangement also raises the question, what if one party doesn't want to take part in the first place?
However, as far as Jill and Derek are concerned, neither would have it any other way.
"I signed their covenant marriage certificate," Derick's mom Cathy told People. "It was so special. But it wouldn't matter if they chose that type of marriage certificate or not, those two would still have a covenant marriage."
https://www.weinbergerlawgroup.com/wp-content/uploads/2022/12/Weinberger-Divorce-Family-LAw-Group-LLC.-520-×-118-px1.png
0
0
Weinberger Divorce & Family Law
https://www.weinbergerlawgroup.com/wp-content/uploads/2022/12/Weinberger-Divorce-Family-LAw-Group-LLC.-520-×-118-px1.png
Weinberger Divorce & Family Law
2014-10-30 15:31:18
2014-10-30 15:31:18
What Is a Covenant Marriage?