"Bari was wonderful!! She always explained the law thoroughly. I understood every part of the process. She was supportive, smart & professional. Everyone said "You need a shark", I said "I need a stingray". Bari has an amazing combination of elegance & intelligence & can fight the fight…"
Tara M.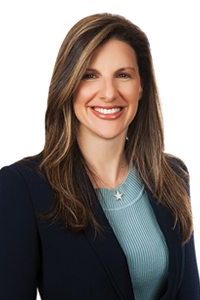 Family law expert, Bari  Zell  Weinberger  is  the  owner  and  managing  partner  of  Weinberger  Divorce  & Family  Law  Group,  LLC.
Ms.  Weinberger  received  her  Juris  Doctorate  from  Suffolk University  School  of  Law.  After  graduation,  she  served  as  a  judicial  law  clerk  for  the Honorable  Roger  W.  Daley,  J.S.C.  in  the  Middlesex  County  Family  Part;  and  the Honorable  Vieri  Volterra,  Suffolk  County  Superior  Court,  Civil  Division.  She  previously served  as  a  judicial  law  clerk  to  William  Sinnott,  Organized  Crime  Drug  Enforcement Task  Force  Chief,  US  Department  of  Justice.  Before  entering  private  practice, Ms. Weinberger worked in entertainment law and was a Legal Consumer Producer at WHDH-TV, an NBC Affiliate.
Ms. Weinberger is admitted to the New Jersey Bar and the New Jersey District Court Bar. Ms. Weinberger's practice has been and remains exclusively concentrated in matrimonial and family law, where she is dedicated to serving the best interests of her clients in all matters related to divorce, child custody, child support, alimony and the division of assets. In addition to representing clients in contested matters, Ms. Weinberger is a court approved and qualified Family Law Mediator and provides mediation services to assist parties in reaching a mutual resolution of their family and matrimonial issues. Ms. Weinberger is also trained in the alternative dispute resolution method of collaborative divorce, which better enables her to avoid litigation through this non-adversarial settlement process.
Ms. Weinberger has been designated by the New Jersey Supreme Court as a Certified Matrimonial  Attorney,  a  certification  achieved  by  only  2% of  attorneys  in  New  Jersey. She has served as editor/Associate Author of the New Jersey Family Law Practice, a 5 volume  legal  treatise  that is  utilized  by  virtually  every  family law  judge  and  attorney  in the State.  Ms. Weinberger has authored and published a complete set of books and e-books in her Family Law Jersey Style collection series for the public on various topics in family  and  matrimonial  law  such  as  contested  divorce,  uncontested divorce,  child custody,  child  support,  alimony,  property  distribution,  domestic  violence,  alternative dispute resolution, and more.
Ms. Weinberger also served as a co-author of Strategies for Military Law and Bari has been  a  contributor  to  various  mediums  including  but  not  limited  to  the  Wall  Street Journal, Smart Money, Forbes, CBS, ABC, Access Hollywood, News Channel 12, PIX-Channel 11, E-Health Radio, Huffington Post, Divorce Magazine, The Star Ledger, New Jersey  Lawyer  Magazine,  New  Jersey  Law  Journal,  Matrimonial  Strategist,  and  more. Bari was recently honored as NJBIZ Top 50 Women in Business and named as a Top 25 Leading Women Entrepreneur.
She  also  volunteers  as  an  expert  panelist  at  the  family  courts  in  the  Early  Settlement Programs. Not only has Ms. Weinberger been a board member and Master of the New Jersey  Family  Inns  of  Court,  she  is  presently  a  member  of  the  New  Jersey  State  Bar Association, the American Bar Association, the Morris County Bar Association and the American Trial Lawyers Association.
Bari Zell Weinberger has received a Martindale-Hubbell Peer Review Rating based on the  exemplary  work  in  the  field  of  family  and  matrimonial  law.  She  was  given  an  "AV Preeminent®"*  rating  from  her  peers,  which  means  that  she  is  deemed  to  have  very high  professional  ethics  and  legal  ability  in  the  field  of  New  Jersey  family  law  and divorce. Only lawyers with the highest ethical standards and professional ability receive this  Martindale-Hubbell  Peer  Review  Rating. Additionally,  she  has consistently  been  a recipient  of  the  "Client  Satisfaction  Award"  from  the  American  Institute  of  Family  Law Attorneys as well as selected as a Rising Star* and Super Lawyer* for many consecutive years.
* AV Preeminent® is the highest possible Martindale-Hubbell Peer Review Rating designation. The Martindale-Hubbell Peer Review Ratings was design to attest to a lawyer's legal ability and professional ethics and provide buyers of legal services with the opinion of other lawyers to further inform their hiring decisions. The selection process can be viewed at www.martindale.com. No aspect of this advertisement has been approved by the Supreme Court of NJ.
* Super Lawyers is a publication of Thomson Reuters. The selection process is conducted by an independent firm that determines which lawyers in New Jersey have attained a high degree of peer recognition & professional achievement. The selection process can be viewed at www.superlawyers.com. No aspect of this advertisement has been approved by the Supreme Court of NJ.
* American Institute of Family Law (10 Best Client Satisfaction; Top10 Under 40) "To be named an attorney must be formally nominated by the board, client, and/or fellow Attorney; have attained the highest degree of professional achievement in his or her field of law; and having done so with an impeccable Client Satisfaction rating. To learn more about the selection process see www.aiofla.org. No aspect of this has been approved by the Supreme Court of New Jersey.
Certification / Specialties:
Matrimonial Law Attorney, New Jersey Supreme Court
Court Appointed and Qualified Family Law Mediator
Qualified and Trained Collaborative Law Attorney
New Jersey
U.S. District Court
Suffolk University Law School, Boston, Massachusetts, J.D.
University of Massachusetts at Amherst, B.A.
NJ Biz Best 50 Women in Business
New Jersey Leading Women Entrepreneurs
Women's Center for Entrepreneurship Corporation: Woman Business Owner of the Year Finalist
Ten Leaders under age 45 in Matrimonial and Divorce Law
Martindale Hubbell – "AV Preeminent®"* Rating
New Jersey Super Lawyers – Rising Stars
Best Client Satisfaction for Family Law – American Institute of Legal Counsel
A full list of articles, interviews and published works in newspapers, magazines and legal journals from Bari Weinberger can be found on our News & Press page, with many publications included in some of these distinguished, well-known news and magazine sources:
Newsweek
New Jersey Law Journal
Huffington Post
Forbes
Wall Street Journal
Diversity Journal
NJ.com
HG.org
Lawyer.com
Divorce Magazine
Smart Money
Examiner
New Jersey Family Law Practice, Associate Author, New Jersey Institute for Continuing Legal Education:
15th Ed.,
14th Ed.,
13th Ed.,
12th Ed.,
New Jersey Family Law Practice, Chapters Including Introduction, Initial Conference, Dealing with the Client; Pleadings, Discovery, Motion Practice and Pretrial Dispositions (Editor), New Jersey Institute for Continuing Legal Education (ICLE)
Television / Radio / Appearances:
A full list of TV and radio appearances for Bari Weinberger can be found on our News & Press page, with many appearances included in some of these popular TV and radio stations:
TV News 12 New Jersey
Access Hollywood TV
WPIX-TV PIX11 Morning News
ABC TV Eyewitness News
CBS 2 TV New York
NJ Radio 101.5
eHealth Radio Network
Classes / Seminars Taught:
Motions that Matter II: Powerful Family Law Motion Practice
Motions that Matter: Powerful Family Law Motion Practice,
Domestic Violence Educational Workshop
Seminar on Divorce Process, Mediation and Family Law Related Issues, Kinnelon, NJ
Lecture presented in game show theme on various family law issues
Seminar on Divorce and Family Law Related Issues, Randolph, NJ
Lecture on Amended Court Rules and Revised Case Information Statement
Seminar on Surviving the Divorce Process, Short Hills Hilton
Family Law Practical Skills Series, New Jersey Institute for Continuing Legal Education,
Professional Associations and Memberships:
Morris County Bar Association, 2002 – Present
Family Law Executive Committee, 2005
American Trial Lawyers Association, 2002 – 2007
American Bar Association, Family Law Section
New Jersey State Bar Association, Family Law Section
American Inns of Court, 1999 – Present
Family Law Inn; Master/Board Member
Bergen County Bar Association, 2000 – 2002
Middlesex County Bar Association, 1998 – 2000
Pro Bono / Volunteer Activities:
Expert Panelist, Morris County Family Court in the Early Settlement Program
Expert Panelist, Passaic County Family Court in the Early Settlement Program
Participant, Passaic County Kids Count Program
Women's Center, County College of Morris – Randolph and Morristown
Volunteer Family Law Consultant, Legal Clinic, Morris County
Volunteer Family Law Consultant, County College of Morris,
Randolph, New Jersey and Morristown, New Jersey
Bari Weinberger is based at our Parsippany, NJ office. Schedule an initial consultation with Bari by calling (888) 888-0919 or schedule online: