How To Begin Your Divorce
What do I need to do to before I begin divorcing my spouse? What about my kids, how do I protect them? What about my privacy and my assets? What are my first steps?
In these early stages of your divorce, your mind may be racing with fears about your children, your life, your finances, and your future. We understand. We know that the legal process can be overwhelming, and that you need to get control back in your life and begin divorce with confidence and peace of mind.
Your initial urge might be to go to the courthouse as soon as possible and file for divorce. That starts the process…right? Yes, it does. But decisions that you make in these early stages can significantly affect the outcome of your divorce, including decisions about the best time to file. We get it. You never thought you would be at the point of divorce. Now that you are, it is imperative to think carefully and strategically about what you want from your divorce and who you need to help you achieve that outcome. The following steps will help you arrive at the best outcome for your situation:
1. Begin Divorce: Your Objectives For Your Future
Before you file for divorce, you need to consider what you want your life to be like after your divorce. It is key to start thinking about this now, before your begin divorce proceedings. Be realistic, but start identifying what is truly important.
For instance, if you have children, what sort of custody or parenting time works for you? There are many different child custody options in New Jersey, so consider what could work for you. Your divorce lawyer will be able to go through the different options open to you and work to create a smart custody plan.
What about property and assets? Many people begin divorce automatically thinking that they want to keep the family home in their divorce – but it may be that this could be disadvantageous to you for tax or other financial reasons. Alternatively, you may be able to use this as a bargaining chip in lieu of other assets. What about vacation homes, wine collections, property or stock portfolios and the 401K? Be completely open with your attorney about your assets and your wants vs. needs, so you can work together to start identifying what would constitute a strategic settlement.
Alimony: what would an appropriate spousal support amount look like in your situation? What are your financial commitments?  The laws on alimony have changed significantly in recent years, so you need to get advice on spousal support in your circumstance and start planning your future.
You will need to discuss all of these items, and more, in your initial consultation with your divorce attorney, so that you can plan to file strategically for divorce when the time is right for you. The next step is to choose your divorce attorney.
2. Choose the Right Divorce Attorney
Hiring the right attorney is one of the most important decisions you will make in your divorce. You need to depend upon your attorney, you need to know that they are there to answer your questions and act promptly for you — and you need a lawyer who is smart and strategic: who knows when to fight and when to negotiate. Here are some things to consider when choosing your lawyer as you begin divorce.
Find a Law Firm Dedicated to Divorce & Family Law: Hiring the right family law attorney is no different than seeking out the right medical specialist to treat a health condition. A law firm dedicated to family law will understand your situation and have a comprehensive knowledge of the proceedings specific to family court. Ideally, the firm you retain should have at least one lawyer who is a Certified Matrimonial Attorney—a designation earned by only 2% of family law attorneys in New Jersey—to ensure a superior level of knowledge and experience in family law.
Avoid the "Shark" Attorney: A highly aggressive attorney may make you feel more powerful, but don't mistake an overly combative lawyer for a strong one. There is a time to fight and a time to be reasonable. An attorney who thinks of litigation as your first or only option may have a bad reputation with the judge and may very well increase the tension between you and the other party. This will drive up your costs and can often result in a worse outcome. The lawyer you choose needs to understand when to advocate vigorously and when to strategically negotiate.
Get this FREE download which details more about what you need to know before filing for divorce.
"I hired another firm for my initial divorce …and paid for that mistake in the long-run with incompetent counsel. After hiring WLG post-divorce, I was able to see the difference and there is no comparison–these folks are 100% dedicated to the practice of family law. Divorce is an emotional process with lasting implications. Definitely do your due diligence when hiring any firm to represent your interests and choose the one that is best for you… I highly recommend them." Chrishan W.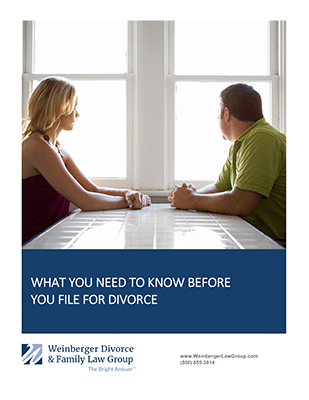 3. Schedule an Initial Consultation
Schedule a consultation with the law firm of your choice. Make sure that you are meeting with an attorney, and not a practice manager, as you want to come away from this consultation feeling informed, confident and with peace of mind.
At Weinberger Divorce & Family Law Group, LLC, we offer an initial consultation with an attorney. Tell us about your situation, ask all of your burning questions: we are here to help. What are your goals? How can we best achieve them? When is the most strategic time to file in your situation? Your lawyer will then work with you to create a strategy for your divorce.
Are you in North or South New Jersey? We have offices located throughout the state from Morris County to Mount Laurel and each of our locations is fully staffed with attorneys.
Ready to get answers to your burning questions? Schedule your consultation: (888) 888-0919 or contact us online.
4. Start to Gather Documents
You do not need these documents for your initial consultation. However, you will want to start gathering together all of the information you are going to need for your divorce or family law matter. These may include:
Financial Information: including savings, retirement, property, bills, legal agreements, insurance information
For post-judgment matters, a good starting point would be to compile your judgment of New Jersey divorce, marital settlement agreement, previously filed case information statement, and any existing post divorce court orders.
Where alimony and child support are concerned, collect recent paystubs, tax returns, and other financial records. To help get you started, download and print out our multi-purpose, Financial Information Checklist, to help you keep track of assets, liabilities, financial records, and more.
Ready to start safeguarding your future? Schedule your initial consultation: (888) 888-0919 or read more advice about starting the divorce process.